Market Match Limit Lifted!
Unlimited Market Match, Market Umbrella's SNAP incentive program, extended through September 30, 2021!
Recipe
Potato Fry
This potato fry can quickly become a staple recipe in your cookbook, coming together easily in one pot. Warm and savory, these potatoes go well over rice and can be enjoyed with toast, tortilla or naan. Many produce vendors like Indian Springs Farmers Association and Amorphous Gardens have recently started bringing potatoes to market, and Amorphous and Poche Family Farms also happen to carry turmeric. Tomatoes and onions are abundant where produce is found. This recipe also allows for many substitutions in case you don't have a few of the traditional spices on hand.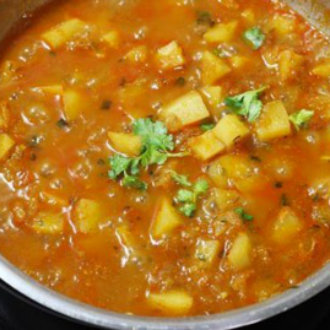 Ingredients
250 grams potatoes (cubed to 3⁄4 inch, 3 medium size
3⁄4 cup onion (fine chopped, 100 grams, 1 large)
3⁄4 to 1 cup tomatoes (fine chopped or pureed, 200 grams, 3 medium)
2 tablespoons Oil
1 teaspoon garlic (fine chopped or 1 tsp ginger garlic paste)
1⁄2 teaspoon salt (adjust to taste)
1 1⁄4 cup water (or light coconut milk, adjust as needed)
2 tablespoons coriander leaves (cilantro chopped) (or 1⁄2 tsp kasuri methi)
Spices
1⁄2 teaspoon cumin seeds (or ground cumin)
1⁄2 to 3⁄4 teaspoon red chili powder or 1⁄2 tsp cayenne pepper or paprika (adjust to taste) 1⁄4 teaspoon turmeric
3⁄4 to 1 teaspoon garam masala or curry powder as needed
1 teaspoon coriander powder (ground coriander)
Directions
Wash and fine chop onions. Chop or puree tomatoes. Peel and cube potatoes to 3⁄4 inch pieces. Keep them immersed in a bowl of water until used.
Pour 2 tablespoons oil to a hot pan. When the oil becomes hot, add cumin seeds (optional).
Add chopped onions & saute until they turn pink or transparent.
Stir in ginger garlic and saute for 1 to 2 mins, until a nice aroma comes out.
Next add chopped tomatoes, turmeric and salt. Saute until the tomatoes break down & turn soft and mushy.
Add red chili powder, garam masala, coriander powder & cumin powder (optional).
Saute everything well for 2 to 3 minutes until the masala begins to smell good.
Drain the potatoes and add them to the pan. Saute them for 2 to 3 minutes.
Pour 1 1⁄4 cup water or light coconut milk to partially cover the potatoes.
Cook covered until the potatoes are fully done or fork tender. Stir the curry in between to prevent burning.
Taste test and add more salt if needed. If the potato curry is runny, open the lid and evaporate the excess liquid. If there is not enough liquid pour some water and bring it to consistency.
Turn off and keep the pot covered for 2 mins for the flavors to be absorbed. Garnish potato curry with coriander leaves. Serve with rice or roti.
Instant pot potato curry
To make this potato curry in Instant pot, dice the potatoes to 1 inch pieces so they don't turn mushy when cooked under pressure.
Press saute button on your Instant pot and pour oil to the steel insert.
When the oil turns hot, add cumin seeds and onions.
Saute well until the onions turn light golden & lose their raw flavor.
Then stir in ginger garlic and saute for 1 minute. Add tomatoes and salt.
Stir fry until tomatoes break down and turn completely mushy.
Then add all the spice powders – garam masala, chili powder, and turmeric. Sauté for 30 to 60 seconds until aromatic.
Press cancel. Add the potatoes and pour 1 cup water. Deglaze the pot by scrubbing the bottom with the spatula to release any bits of food stuck there.
Optionally you can also cook your rice in your instant pot by placing your rice bowl over the trivet. Use hot water to cook your rice as the cook time for this recipe is only 4 mins.
Secure the Instant pot with the lid. Press the pressure cook button and set the timer to 4 minutes.
When the Instant pot is done cooking, do a quick pressure release by moving the steam vent from sealing to venting.
Potato curry is ready at this stage. If you prefer to use coconut milk, then bring the potatoes to the center of the pot with the spatula. Pour only half cup of coconut milk around the edges, inside the steel insert. Cook on saute mode until the curry thickens slightly. This just takes 1 to 2 mins.
Remove the pot from the IP and add coriander leaves or Kasuri methi. Serve potato curry with rice or roti, paratha.
---
About Us
Market Umbrella is an independent nonprofit 501(c)(3), based in New Orleans, whose mission is to cultivate the field of public markets for public good. Market Umbrella has operated the Crescent City Farmers Markets (CCFM) since 1995.
The Crescent City Farmers Market operates weekly year-round throughout New Orleans. The CCFM hosts nearly 60 local small farmers, fishers, and food producers, and more than 150,000 shoppers annually.