Unlimited Market Match! | November 9, 2020
Fresh & Local:
Unlimited Market Match!
Market Match, Market Umbrella's signature SNAP incentive program, has been offered at the Crescent City Farmers Market for over a decade providing a dollar-for-dollar match up to $20 on SNAP purchases and increasing buying power for fresh fruits and vegetables for low-income community members.
Market Umbrella is excited to announce that we've received a new USDA Gus Schumacher Nutrition Incentive Program award, one that will allow us to continue and expand this program. From now through the holiday season, Market Umbrella will be offering unlimited dollar-for-dollar Match to purchase fruits and vegetables through the end of 2020, so the $20 limit no longer applies and shoppers can spend any amount they choose. Unlimited Market Match will be available at:
There are now so many ways to Market Match! SNAP shoppers will also have the opportunity to learn some new chops through cooking classes offered through the Goldring Center for Culinary Medicine.
Among the many effects of the global pandemic is that food insecurity has been exacerbated and Louisiana has some of the highest levels in the country, particularly for children. We've also seen dramatic shifts in the way that consumers are shopping these days - making fewer trips and buying more groceries at a time. Unlimited Market Match through all of these outlets aims to help families put food on the table and choose the means to do so that is most convenient, and most comfortable.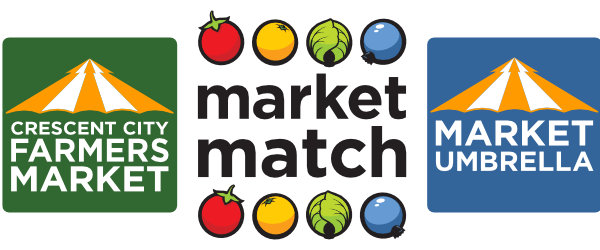 Good Food Concept of the Week:
In addition to running farmers markets, a critical component of Market Umbrella's work is to enhance food and nutrition access and awareness in our community. The Good Food Concept of the Week seeks to shed some light on this part of our work and also to demystify the jargon.
SNAP

This week's Good Food Concept is Supplemental Nutrition Assistance Program – SNAP, still sometimes referred to as food stamps, is a USDA anti-hunger program providing monthly assistance to low-income households. These supplemental funds add an average of $1.39 per meal to the household food budget for a total of $127 per person per month on average. In 2019, more than two thirds of SNAP recipients were families with children and the other third were households with seniors or people with disabilities. To qualify, the income of a household must fall below the poverty level which is $1064 a month for a single person household. In addition, able-body adults must be employed or seeking employment to qualify to receive SNAP benefits. In Louisiana, this translates to almost 20% of the population qualifying to receive SNAP in a normal year.
Picks of the Week:

Bucktown

We are back to Fridays, baby! Now you can make your groceries at the glorious Bucktown Harbor on Fridays from 3-7pm. As a hybrid market, you have the choice of shopping outside in the fresh air and sunlight, OR you can order in advance for contactless curbside pickup through WhatsGood (pre-order Tuesdays through Thursdays).

To celebrate, CCFM is offering $5 off your order when you pre-order for the Bucktown Harbor Hybrid Market using the online marketplace WhatsGood with code: "BUCKWILD"! Offer valid until the end of the year for one-time use, limited to the first 100 shoppers.

It doesn't stop there! CCFM is also offering $5 to on-site Bucktown Harbor Hybrid Market shoppers! Just mention the Market Morsel at the welcome tent for a $5 token to be used on fresh, local food!

The CCFM Bucktown Harbor Farmers Market is made possible by support by the Office of Councilwoman Jennifer Van Vrancken. We hope to see you there!
SNAP Customers Can Replace Groceries Lost to Power Outage!

High winds from Zeta caused power outages that some New Orleanians are still recovering from. If power outages caused you to lose food and you are a SNAP recipient, you may be able to recoup some of those costs!

Fill out this simple application through the Department of Child and Family Services, and you may be able to have SNAP benefits restored to your card. After you do that, don't forget to double your dollars with Market Match at the Crescent City Farmers Markets, and restock on fresh, local fruits and vegetables!
CCFM Box

What's in the box? Need fresh, local produce from CCFM vendors delivered to your door? Weekly boxes go on sale on Tuesday mornings at 9am through Fridays at 5pm to be delivered on the following Tuesday. Order one this week!

Both boxes qualify for purchase through our Market Match program for SNAP benefit shoppers, doubling your buying power and cutting the price in half! Choose "pay at pickup" and Top Box will contact you directly to process your SNAP payment and to receive your dollar for dollar match.
Vendor of the Week:

T&R Dairy

T&R Dairy, a fourth-generation family dairy farm, have made quite the impact at Crescent City Farmers Market and New Orleans since joining in 2018. Since April, vendor rep Mary and her sister Judy have been found at the Sunday Parkway Drive Thru - true pivotal pioneers! These days, you can also find T&R in the Market Mommas Club Box and starting this week, they'll be returning to the Tuesday Uptown market! T&R offers grass-fed cow dairy, beef and pork as well as an assortment of vegetables from their small farm, holy cow. We'll cheers with frosty, cream-line milk to small, generational family dairy farms!
Recipe of the Week:

Roasted Brussels Sprouts

From Brussels with love… I know we say this a lot but it's the most wonderful time of year at Crescent City Farmers Market!! Along with sweet satsumas, Meyer lemons and persimmons, we are also seeing the return of holiday favorite Brussels sprouts. Before you say "yuck", if you haven't tried Brussels since the '90s, it's time to give them another chance - recent hybridizing has cut down on the compounds that contribute to bitterness and unpleasant odor. This simple roasting recipe from Well Plated by Erin will have you hungry for more! Caramelized, firm and flavorful, these roasted sprouts are sure to please the pickiest of eaters!

What's your favorite dish to make after visiting the Crescent City Farmers Market? Share your recipes with us on Instagram or Facebook or even Twitter and it might be featured in our weekly newsletter!
Market Match Limit Lifted!
Unlimited Market Match, Market Umbrella's SNAP incentive program, extended through March 31, 2021!
About Us
Market Umbrella is an independent nonprofit 501(c)(3), based in New Orleans, whose mission is to cultivate the field of public markets for public good. Market Umbrella has operated the Crescent City Farmers Markets (CCFM) since 1995.
The Crescent City Farmers Market operates weekly year-round in four New Orleans neighborhoods. The CCFM hosts nearly 80 local small farmers, fishers and food producers, and more than 100,000 shoppers annually.