Happy Thanksgiving! | November 23, 2020
Fresh & Local:
Happy Thanksgiving!
Thanksgiving is the time of year when we gather with family and loved ones and reflect on what we're thankful for. This year will be a little different (check out NOLAReady and Reopening JP in Jefferson Parish for the latest guidance on safe gathering), but you bet your sweet potatoes we'll still be eating well!
You can find everything you need for your virtual feast or socially distanced outdoor gatherings at the market: sweet potatoes for mashing, greens for sautéing, turnips for roasting, carrots for souffle-ing, citrus for cranberry sauce zesting, and pecans for pie-ing. Come by the Uptown Market on Tuesday to get all you need and more for Thanksgiving. P.S. We expect to be busy and thank you in advance for your patience and flexibility.
While you may be missing Aunt Winnie's famous green bean casserole, your friends at Market Umbrella are here to share our holiday favorites - see the recipe section below!
Just a heads up - Our Friday Bucktown Harbor market will be closed this week so that our staff and vendors can enjoy time with their families and a break from the field and give everyone a chance to make some headway on those leftovers!
The Market Umbrella staff wishes you and your families a peaceful and safe Thanksgiving!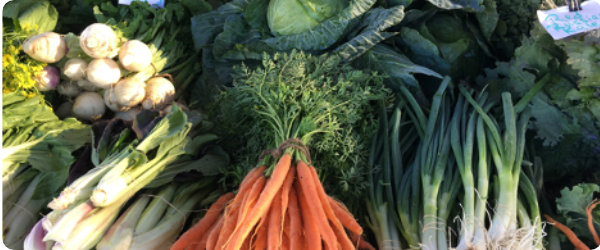 Good Food Concept of the Week:
In addition to running farmers markets, a critical component of Market Umbrella's work is to enhance food and nutrition access and awareness in our community. The Good Food Concept of the Week seeks to shed some light on this part of our work and also to demystify the jargon.
Sometimes Food

This week's Good Food Concept is Sometimes Food – We use this concept in our Meet Me at the Market programming to help young eaters differentiate between foods that are nutritious and meant to be enjoyed often and foods that should be enjoyed in limited quantities or maybe not at all. The American Heart Association calls pizza, burgers and ice cream "sometimes foods," They do not offer much in nutritional value and potentially have large amounts of calories, sugar or unhealthy fats.

Thanksgiving tends to be one of those times where we enjoy all of our favorite sometimes foods all at once and at high volume. But Thanksgiving also can be a veggie-rich day with plenty of delicious opportunities for healthful eating. Consider replacing marshmallow-topped and butter-laden dishes, with a crudite of cosmic purple carrots, watermelon radish and early broccoli. Or take a break from gravy and pies and peel a sweet and juicy satsuma.
Picks of the Week:

Save the Date:
Giving Tuesday is December 1!

For over 25 years, the Crescent City Farmers Market has connected shoppers with the crispest greens, the sweetest strawberries, the juiciest peaches, the freshest eggs, and so much more. We are more than just a market, though! Market Umbrella is a non-profit organization and relies upon support from our community and donors like you in order to operate the Crescent City Farmers Markets as well as the educational and assistance programs we implement to ensure access to healthy, local food for our most vulnerable community members!

On December 1, people around the world will switch gears from shopping-focused days like Black Friday, Small Business Saturday, and Cyber Monday towards the global generosity movement - Giving Tuesday - to harness the power of individuals and organizations to transform their communities. Please, mark your calendar and join us in celebrating Giving Tuesday - or donate now! Visit our website or text CCFM to 44-321 to make a gift to the market you love!
Thursday Mid-City Market

The Mid-City market on Thursday evenings will be returning in early December, but in a new location! You may have seen the construction at the Plaza on the Lafitte Greenway at the corner of Norman C. Francis Pkwy. and Lafitte Street - the Iris of Memory, an illuminated sculpture that also provides seating just went up last week. Well, that lovely new space is the Thursday Market's future home! In partnership with NORD, we'll be moving to the Plaza, the area in front of what used to be the brake tag station and is now the Lafitte Greenway Shelter. We are excited for the move, and will share details on the launch as construction progresses.
Unlimited Market Match!

Through the end of 2020, Market Umbrella will be offering unlimited dollar-for-dollar Market Match for SNAP shoppers to purchase fresh fruits and vegetables, thereby removing the signature program's normal $20 daily limit. Additionally, thanks to a $500,000 USDA Gus Schumacher Nutrition Incentive Program (GusNIP) award, Market Umbrella will expand Market Match beyond all CCFM market locations to also be available at:

Top Box Foods - on ALL SNAP eligible purchases, plus free home delivery
ReFresh Farmers Market on Monday evenings on the Lafitte Greenway
Stay tuned for new nutrition classes and programs supporting Market Match at Tulane's Goldring Center for Culinary Medicine

There are now so many ways to Market Match!
Shop Small this Weekend!

Shop small this season, and every season, with the small businesses who are the vendors of the Crescent City Farmers Market. As you may know, all of our vendors are from 'round these parts - within 200 miles! Your support and patronage keeps our market going strong and promotes the local economy. So jump in the car, pop your trunk, and wave hello to your local farmer or food producer at our weekend market at Parkway Bakery & Tavern!

Last chance: WhatsGood is offering 50% off of your first order with code: "NOV50" throughout November, redeemable for the Parkway and Uptown Market pre-ordering THIS WEEK!
Vendor of the Week:

Major Acre Farm

Have ya met Ellis? He's farming just one major acre to bring "better than organic" produce to our markets. Part of a new generation of farmers, who are dedicated stewards of the environment, Ellis is farming thoughtfully and sustainably to bring both familiar and unique varieties to the table. Right now, you can find Major Acre's curvaceous carrots, pink daikon and other offerings at the Tuesday Walk Up market. We are also stoked about his return to our Thursday market (coming soon!) in the new year.
Market Match Limit Lifted!
Unlimited Market Match, Market Umbrella's SNAP incentive program, extended through March 31, 2021!
About Us
Market Umbrella is an independent nonprofit 501(c)(3), based in New Orleans, whose mission is to cultivate the field of public markets for public good. Market Umbrella has operated the Crescent City Farmers Markets (CCFM) since 1995.
The Crescent City Farmers Market operates weekly year-round in four New Orleans neighborhoods. The CCFM hosts nearly 80 local small farmers, fishers and food producers, and more than 100,000 shoppers annually.