Market Match Limit Lifted!
Unlimited Market Match, Market Umbrella's SNAP incentive program, extended through September 30, 2021!
Recipe
Triple Threat Onion Galette
Garlic, scallions, and onion bake together into a savory, cheesy filling that can be enjoyed any time of day. Scallions, aka green onions, aka Louisiana shallots have been front and center on local tables for the past few weeks. For this recipe, work fast with your fingertips and chill your bowl and spatula ahead of time to keep the butter cold and ensure a flaky, buttery crust. For an extra hand, the recipe link comes with in-text video guides to guarantee that your onions are jamming it up when you take that first bite.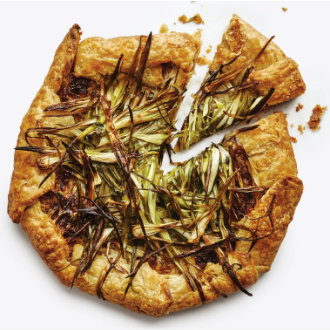 Ingredients
1½ cups (188 g) all-purpose flour, plus more for dusting
1 Tbsp. sugar
3 tsp. Diamond Crystal or 1¾ tsp. Morton kosher salt
16 Tbsp. (2 sticks) chilled unsalted butter, divided
1 large onion
8 garlic cloves
2 oz. Parmesan
12 scallions
2 Tbsp. Dijon mustard
Freshly ground black pepper
Directions
First, make the crust. Whisk 1½ cups (188 g) all-purpose flour, 1 Tbsp. sugar, and 1½ tsp. Diamond Crystal or 1 tsp. Morton kosher salt in a medium bowl to combine. Cut 12 Tbsp. (1½ sticks) chilled unsalted butter into ½" pieces, add to dry ingredients and toss to coat and distribute. Using your hands and working quickly, rub and smash butter into flat irregular pieces (be careful not to overwork; you don't want to soften the butter too much. Just make sure you smash each piece at least once. And if the butter is getting too warm, throw the bowl in the fridge or freezer and let chill for a bit before proceeding).
Drizzle ⅓ cup cold water over and mix with a rubber spatula, smashing in butter, until dough mostly comes together—it will be dry and shaggy.
Now you are going to fold the dough, which will give it distinct flaky layers when baked. Turn out onto a lightly floured surface. Working quickly and using a rolling pin and your hands, press dough together to form a mass. (The dough will seem like a crumbly dry mess at first but will come together as you fold and roll. Have faith and don't give up.) Roll dough into a rough square about ½" thick. Fold in half into a rectangle, then once again to make a small square. Press down on the dough with a rolling pin to make it hold together. Roll dough out once more to make a rough square about ½" thick. Repeat the folding process again, taking your time to make it neat, as this will be your final fold.
Using a rolling pin, gently flatten the dough, rotating as needed, to make a 6"-diameter disk. Dust surface with more flour (go heavy; you don't want the dough to stick) and roll disk into a 14"-diameter circle or oval about ⅛" thick. Brush off any excess flour with a pastry brush. Fold dough in half, then in half again to make a rough triangle (this just makes it easier to move). Transfer to a parchment-lined baking sheet and unfold (it's okay if the dough is a bit larger than the baking sheet). Chill while you make the filling.
Place a rack in the middle of the oven; preheat to 375°. Peel and thinly slice 1 large onion, then 8 garlic cloves.
Heat 3 Tbsp. unsalted butter in a medium skillet over medium until foaming, about 1 minute. Reduce heat to medium-low; add onion, garlic, and 1 tsp. Diamond Crystal or ½ tsp. Morton salt, and stir to combine. Cover and cook, stirring occasionally until onion is tender and just beginning to brown, 6–8 minutes. Uncover and continue to cook, stirring occasionally and adding a splash of water if onion begins to stick, until golden brown in spots, about 5 minutes more. Transfer onion mixture to a plate; reserve skillet.
While the onion mixture is cooking, finely grate 2 oz. Parmesan (you should have about 2 cups). Trim 12 scallions, then thinly slice on a steep diagonal. This will yield striking oblique disks, but if you're nervous about your knife skills, simply slice crosswise.
Melt remaining 1 Tbsp. unsalted butter in a reserved skillet (no need to wipe it out) over medium heat. Remove from heat and add scallions and remaining ½ tsp. Diamond Crystal or ¼ tsp. Morton kosher salt. Toss scallions until coated in butter.
Now you are ready to assemble your galette! Remove dough from refrigerator and, using a small offset spatula or spoon, spread 2 Tbsp. Dijon mustard in a thin layer over the dough, leaving a 1½"–2" border around the edges. Scatter onion mixture over the mustard and sprinkle with cheese; season with freshly ground black pepper.
Cutting from the edge of dough to the start of the mustard and filling, make slits in the border of galette at 2"–3" intervals (the slits are optional but make for a more beautiful presentation). Fold flaps up and over filling, slightly overlapping. Scatter scallions over.
Bake galette until crust is deep golden brown and scallions are lightly charred, 45–50 minutes. (Your crust isn't properly baked until it's the color of a well-worn penny. If your timer dings but the dough is pale, keep going.) Using parchment paper, slide the galette onto a cutting board and cut it into wedges.
Do ahead: Dough can be made 3 days ahead; wrap 6"-diameter disk tightly and chill until ready to roll out. Onion mixture can be cooked 3 days ahead; transfer to an airtight container, then cover and chill. The galette can be assembled 1 hour ahead; chill.
---
About Us
Market Umbrella is an independent nonprofit 501(c)(3), based in New Orleans, whose mission is to cultivate the field of public markets for public good. Market Umbrella has operated the Crescent City Farmers Markets (CCFM) since 1995.
The Crescent City Farmers Market operates weekly year-round throughout New Orleans. The CCFM hosts nearly 60 local small farmers, fishers, and food producers, and more than 150,000 shoppers annually.