Market Match Limit Lifted!
Unlimited Market Match, Market Umbrella's SNAP incentive program, extended through September 30, 2021!
Recipe
Braised White Beans and Greens
This hearty dish is savory and filling, a one-pot meal that can be enjoyed on weeknights and easily lends itself to a dairy and meat-free preparation. Greens and garlic are always abundant at market, and Honest Foods Company, Leo's Bread or Bread and Roses can supply the perfect, crusty loaf to soak up all that cheesy broth. You can enjoy this vegetarian meal alone or alongside another course. Reheat on the stove with a good stir or in a microwave under a damp paper towel. Soon, fresh beans will be available at market - we can't wait to prepare this with creamy, fresh speckled butter beans!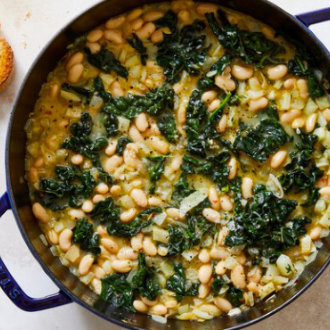 Ingredients
¼ cup olive oil
1 small fennel bulb, trimmed, cored and small-diced
1 small yellow onion, small-diced
2 teaspoons minced fresh rosemary or thyme
5 garlic cloves, minced
¼ teaspoon red-pepper flakes, plus more to taste
1 large or 2 small bunches escarole, kale or Swiss chard, stems removed (10 to 12 ounces)
2 cups dried cannellini beans, or 2 (15-ounce) cans cannellini beans, rinsed
2 cups low-sodium vegetable or chicken broth
Kosher salt and black pepper
1 tablespoon lemon juice
½ cup shredded mozzarella (optional)
3 tablespoons grated Pecorino Romano or Parmesan, plus more for serving
Toasted country bread, for serving
Directions
In a 12-inch skillet, heat the olive oil over medium. Add the fennel, onion and rosemary, and cook for 4 to 6 minutes, stirring occasionally, until tender. Add the garlic and red-pepper flakes and cook until fragrant, about 1 minute.
Begin adding handfuls of the greens, cooking and stirring until leaves wilt.
Add the white beans, broth and 1/4 teaspoon black pepper, and stir to combine. Bring to a boil, then turn the heat to low and simmer, mashing some of the beans with a wooden spoon, until the liquid has reduced and thickened, 6 to 8 minutes.
Off the heat, stir in the lemon juice, then the mozzarella, if using, and Pecorino Romano. Taste and season with salt and pepper. Divide among shallow bowls and top with more Pecorino Romano. Serve with toasted bread and a dish of red-pepper flakes on the side.
---
About Us
Market Umbrella is an independent nonprofit 501(c)(3), based in New Orleans, whose mission is to cultivate the field of public markets for public good. Market Umbrella has operated the Crescent City Farmers Markets (CCFM) since 1995.
The Crescent City Farmers Market operates weekly year-round throughout New Orleans. The CCFM hosts nearly 60 local small farmers, fishers, and food producers, and more than 150,000 shoppers annually.