Don't Miss a Beet | April 19, 2021
Fresh & Local:
Don't Miss a Beet
Out with the old and in with the new - All CCFM merchandise is now 50% off! Step up your swagger with a fresh Broc is Hot tee and get your spring garden in shape with our throwback gardening gloves. Tee shirts, bandannas and other merch is available for pre-order from all markets through the WhatsGood online marketplace. Merch can be purchased in-person at the Tuesday market, but supplies are limited so act fast!
Merch includes:
Don't Miss a Beet Tee (adult) $10
Don't Miss a Beet Tee (child) $7.50
Broc is Hot Tee (adult) $10
Broc is Hot (child) $7.50
CCFM Tote Bag $2.50

Throwback Insulated Tote Bag $10
Throwback Gardening Gloves $2.50
Throwback Tumbler $5
CCFM 25th Anniversary Magnet $1
Veggie Bandanna $4
CCFM Cookbook $7.50
Picks of the Week:
Volunteer with CCFM
Want to get hands on with the CCFM? Join us on Friday 4/23/21 or Friday 4/30/21 to help us prepare the farm boxes for the Farmstand live event! Farmstand Live is a drive-in concert event series with dinner & farm fresh produce and locally sourced goods from the Crescent City Farmers Market. Fridays will be a fun day of helping CCFM vendors deliver fresh produce and other agricultural goods and working with the CCFM team to pack up the boxes for the event. More information can be found on SignUp - Volunteer today!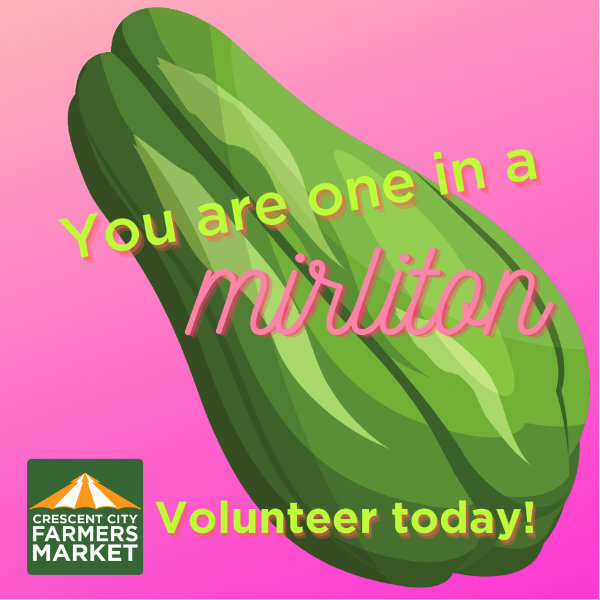 Green for Greens on GiveNOLA Day!

Only two more weeks til GiveNOLA Day - coming to you on May 4, 2021! This 24-hour online giving event is an initiative of the Greater New Orleans Foundation where you can give green to support your favorite causes by donating to local nonprofit organizations serving the New Orleans community. As a market supporter, please consider giving green to support greens… and all the other delicious, healthy local food the Crescent City Farmers Market has to offer! Your donation will support Market Umbrella's operations and food access programming - strengthening local foodways and supporting eaters of all ages and incomes, while helping our vendors sustain their farming and fishing businesses.

P.S. Early giving starts tomorrow if you'd like to schedule your gift ahead of time!
Kale, Yeah!

Have you fallen off your New Year's resolution health kick? We hope not, because right now is peak season for all kinds of greens at the market, but they won't stay around for long! Leafy greens are healthy as heck - filled with vitamins and other nutrients as well as protein and fiber.

Whether you prefer your greens stewed and wilty over the stove to ward off these chilly nights, or raw and crisp in salad form, you're sure to find it fresh at the market.

Hearty greens like collards and kale break down when they are cooked, weakening their tough structure and mellowing out any bitterness. If you don't already have a favorite recipe for cooking greens and you're short on time, a bit of olive oil, salt, garlic, and a squeeze of fresh lemon juice will yield no less than perfect results every time. Before the summer heat sets in is also peak salad time - so if you prefer to go raw, there are plenty of spring and mesclun mixes available at market. Young, tender chard, spinach and mizuna also make for great salads.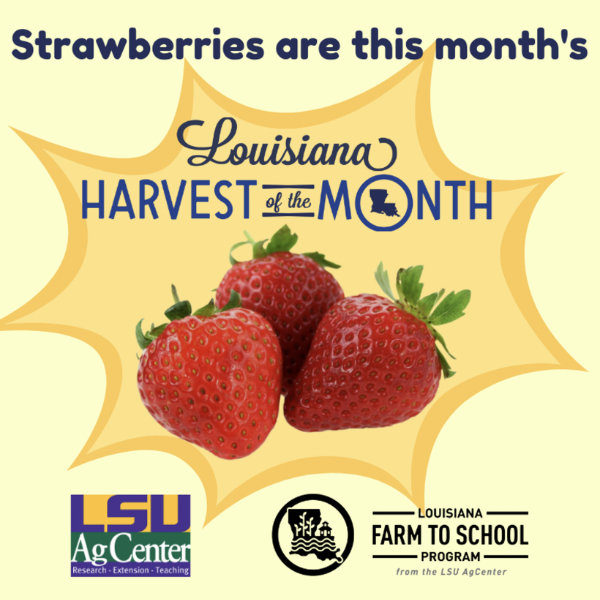 Vendor of the Week:

Molly Fay Flower Farm

Molly Fay is a self-described "third-generation flower lover." Named after her great grandmother and great aunt Frances (Fay), both wonderful gardeners and lovers of all things beautiful, Molly Fay began her flower farm on the northshore three years ago after graduating with majors in ecology and biodiversity. It was a one-man show for a bit until her mother René stepped in to help out. Today they are three strong and are continually growing and thriving as Molly Fay herself is headed to Denver to continue her education and pursue an MBA in sustainability. No need to worry, though. You can still enjoy her lovely blooms on Tuesdays starting tomorrow and Thursdays at the SPROUT NOLA table, along with other bouquets from the NOLA Flower Collective.
Recipes of the Week:

Braised White Beans and Greens

This hearty dish is savory and filling, a one-pot meal that can be enjoyed on weeknights and easily lends itself to a dairy and meat free preparation. Greens and garlic are always abundant at market, and Honest Foods Company, Leo's Bread or Bread and Roses can supply the perfect, crusty loaf to soak up all that cheesy broth. You can enjoy this vegetarian meal alone or alongside another course. Reheat on the stove with a good stir or in a microwave under a damp paper towel. Soon, fresh beans will be available at market - we can't wait to prepare this with creamy, fresh speckled butter beans!

What's your favorite dish to make after visiting the Crescent City Farmers Market? Share your recipes with us on Instagram or Facebook or even Twitter and it might be featured in our weekly newsletter!
Market Match Limit Lifted!
Unlimited Market Match, Market Umbrella's SNAP incentive program, extended through September 30, 2021!
About Us
Market Umbrella is an independent nonprofit 501(c)(3), based in New Orleans, whose mission is to cultivate the field of public markets for public good. Market Umbrella has operated the Crescent City Farmers Markets (CCFM) since 1995.
The Crescent City Farmers Market operates weekly year-round throughout New Orleans. The CCFM hosts nearly 60 local small farmers, fishers, and food producers, and more than 150,000 shoppers annually.