Spring has Surely Sprung | April 26, 2021
Fresh & Local:
Spring has Surely Sprung
While it's technically been Spring for a few weeks, it finally looks (and feels) like it at market! Hello piquant alliums and sweet summer squash! Get ready for a whole new cornucopia of warm-weather crops, from green, butter, and snap beans, sugar and snow peas, new potatoes, to cucumbers. Keep an eye out for blueberries on the horizon -- Johndale Farm has already managed to sneak in an early pint or so, and J&D Blueberry and Star Nursery will soon come online with plenty of the bluebs. With a final flush, we'll bid farewell to cabbage, carrots, broccoli and cauliflower, and as we progress into summer, welcome creole tomatoes, okra, eggplant, peaches and melons.
Stock up with your favorite producers at Tuesday, Thursday, and Sunday markets for the last of the winter harvest and to whet your appetite for a colorful spring plate! Poche Family Farm has already busted out the cukes on Tuesdays. Amorphous Gardens returns with garlic galore. And if you're ready for the season but have more of a sweet tooth, Leo's Bread and Amanda's have just joined our Thursday lineup and are stocked to the brim with fun new goodies. You can feel the season in our home delivery box as well, chock full of arugula, spicy greens, zucchini and so much more!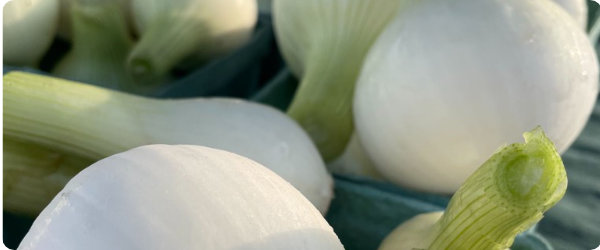 Picks of the Week:

Spring into action on GiveNOLA Day!

It's almost here - get ready to spring into action and make a gift to Market Umbrella on May 4, 2021 for GiveNOLA Day! Your help is needed to ensure the markets and our community continue to blossom and bloom for years to come - support from donors like YOU is critical to serving our mission of cultivating public markets for public good. Your donation will support dozens of local farmers and food producers, hundreds of future healthy eaters through nutrition education, and countless program participants with access to fresh, healthy food! Early giving is now open - you can schedule your gift ahead of time today!
Join our team!

Join the Market Umbrella team and help us build a stronger food system, and healthier community! We are looking for individuals that are passionate about food access, nutrition education, and small business development for local food producers. Applications are currently being accepted for the following positions:
Farmstand Live
We can't jazz it up this year in the usual way, but we can still boogie down to some New Orleans classics, enjoy the finest southern dishes prepared by top New Orleans chefs, and support the local farmers and food producers at the Crescent City Farmers Market. One week down, one more to go!
While Jazzfest is put on hold until October, Farmstand Live is here, bringing together the classic festival pairing of local music plus food. The party continues on May 1st this year at the Shrine on Airline, featuring live performances from critically acclaimed local artists. Everyone knows you go to a festival to indulge, and while ya mom and dem's dirty rice may not contain alligator lips, Jon Cleary's jams will make you want some! Every ticket purchase gets you a farm fresh produce box from the Crescent City Farmers Market, and the concert features three bands and a prepared meal from the city's finest restaurants. Dumpstaphunk said it best: everybody wants sum greasy groceries! Get your tickets now.
Boat to Table –
Bringing Coastal Seafood to Market

The Tulane Center for Environmental Law hosted a Symposium on Equitable Food Systems on April 9, 2021 via Zoom and Market Umbrella was happy to share the figurative stage with fellow system leaders. This symposium included three panels exploring several different issues related to the food system, including Boat to Table – Bringing Coastal Seafood to Market. Fishing is a major economic and cultural touchstone in Louisiana. However, imported fish are more easily accessible and available to consumers. Guest speaker and Director of Markets, Angelina Harrison, speaks to connecting with fisheries, generating community support for local seafood, and opportunities for growth and innovation. View the symposium here!
Volunteer with CCFM
Want to get hands on with the CCFM? Join us on Friday 4/30/21 to help us prepare the farm boxes for the Farmstand live event! Farmstand Live is a drive-in concert event series with dinner and farm fresh produce and locally sourced goods from the Crescent City Farmers Market. Fridays will be a fun day of helping CCFM vendors deliver fresh produce and other agricultural goods and working with the CCFM team to pack up the boxes for the event. All Friday volunteers will receive a farm box! More information and volunteer opportunities can be found on SignUp - Volunteer today!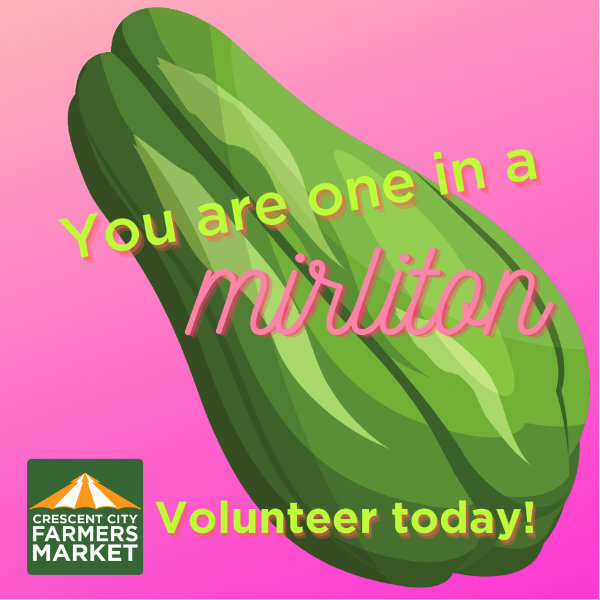 Vendor of the Week:

Amorphous Gardens

Heads up, folks! After a strenuous winter season in Farmhaven, MS, Amorphous Gardens returns to our Sunday Drive-Thru market at City Park. Along with his wife and three kids, Jonathan Picarsic (pictured) has been working 16 acres of farmland for over a decade with an emphasis on natural and sustainable growing practices using no synthetic fertilizers or pesticides, or plastic mulch, which is a common row cover on conventional farms. Check out their stand for items you won't find anywhere else like scapes and verdant greens alongside fresh and cured garlic (also pictured). Jonathan left academia shortly before completing a doctoral degree in social psychology in favor of hands-in-the-dirt farm work. Glad to have you back Amorphous!
Recipes of the Week:

Luncheon's Roasted Sweet Potato Salad

This sweet potato salad has that warm, comforting taste of a heavier home-cooked dish but stays light and fresh with onions and herbs. Roast for about 15 minutes, flipping the cubes, and continue for another 15 minutes on the other side until easily pierced with a fork. Most of the herbs and veggies featured in this recipe are consistently brought to market, including the squash substitutions (though you may have to wait for a bit later in the season to pick those up).

What's your favorite dish to make after visiting the Crescent City Farmers Market? Share your recipes with us on Instagram or Facebook or even Twitter and it might be featured in our weekly newsletter!
Market Match Limit Lifted!
Unlimited Market Match, Market Umbrella's SNAP incentive program, extended through September 30, 2021!
About Us
Market Umbrella is an independent nonprofit 501(c)(3), based in New Orleans, whose mission is to cultivate the field of public markets for public good. Market Umbrella has operated the Crescent City Farmers Markets (CCFM) since 1995.
The Crescent City Farmers Market operates weekly year-round throughout New Orleans. The CCFM hosts nearly 60 local small farmers, fishers, and food producers, and more than 150,000 shoppers annually.