Market Match Limit Lifted!
Unlimited Market Match, Market Umbrella's SNAP incentive program, extended through September 30, 2021!
Recipe
Garden Quiche
Bright May mornings always foster a cozy need for breakfast-in-bed. Although, that may just be because Mother's Day is around the corner. This is a relatively painless dish that is sure to make ya momma proud and works perfectly for those soft cotton mornings when you just want to relax in the moment. The recipe is flexible and will take to many flavors and textures, calling for 1.5 cups of chopped veggies. Mushrooms, summer squash, broccoli, cherry tomatoes, leeks, and onions are a great start, and additions such as ham or bacon are always a good choice and available at any CCFM market. Pop some bubbly to take this garden quiche to boozy brunch levels.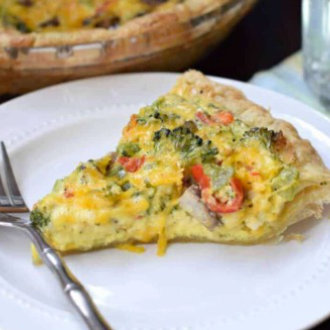 Ingredients
1 sheet frozen Puff Pastry, thawed
6 large eggs
½ cup heavy whipping cream
¼ cup milk
½ tsp garlic salt
¼ tsp black pepper
½ tsp dried parsley
½ tsp dried onion flakes
¾ cup shredded parmesan cheese
1 ½ cup shredded cheddar cheese
1 ½ cup chopped vegetables (I used green pepper, red pepper, mushrooms, and broccoli)
Directions
Allow frozen puff pastry to thaw, according to package directions. Once thawed, press into a 9-inch pie plate.
Beat eggs, heavy cream, milk, garlic, pepper, parsley, and onion flakes until fully combined. Add in cheeses and vegetables. Pour into a pie plate.
Bake in a 375 degree oven for 30-35 minutes. Remove and allow to cool 10-15 minutes before slicing and serving. ENJOY.
---
About Us
Market Umbrella is an independent nonprofit 501(c)(3), based in New Orleans, whose mission is to cultivate the field of public markets for public good. Market Umbrella has operated the Crescent City Farmers Markets (CCFM) since 1995.
The Crescent City Farmers Market operates weekly year-round throughout New Orleans. The CCFM hosts nearly 60 local small farmers, fishers, and food producers, and more than 150,000 shoppers annually.