Gearing up to GiveNOLA! | May 3, 2021
Fresh & Local:
Gearing up to GiveNOLA!
Tomorrow is GiveNOLA Day - celebrate community giving with us! While you are makin' groceries with your favorite farmers, fishers, and local food producers at the Uptown Market from 8am to 12pm, you can make your GiveNOLA Day gift in support of Market Umbrella in person and receive "I yam a Friend of the Crescent City Farmers Market" swag! We'll have iPads on hand so come out to donate and pick up some gardening gloves for growing your own greenery or insulated totes to keep your groceries cool as locally grown cucumbers!
The market you love is more than just a market! As a non-profit organization, Market Umbrella relies upon support from our community and donors like you in order to operate the Crescent City Farmers Markets as well as the educational and assistance programs we implement to ensure access to healthy, local food for our most vulnerable community members - supporting these families and local farms and small businesses at the same time! Your gift is needed now more than ever to help combat the growing food insecurity in our community through programs like Market Match and Market Mommas Club.
Worried you may forget tomorrow? Schedule your donation now by clicking here!
Picks of the Week:

Join our flock!

Join the Market Umbrella flock and help us build a stronger food system and healthier community! We are looking for egg-ceptional individuals that are passionate about food access, nutrition education, and small business development for local food producers. Applications are currently being accepted for the following positions:
Three Boxes Mom Will Love
Take mom to brunch, dinner or shower her with local favorites with a Mother's Day Box from our partners Top Box! Each box is filled with special goodies from current and former Crescent City Farmers Market vendors, as well as other local farms and food artisans!
See something you like? Grab one for yourself, we won't tell.
Pre-orders start TODAY through May 5 and will be delivered Saturday, May 8. For every box purchased, $4 will be donated to Crescent City Farmers Market!
Mother's Day Bouquets

This Mother's Day, Baby T-Rex Farms, St. Claude Flower Farm, and Nightshade Farm & Flowers are teaming up to bring you the best of local spring flowers in thoughtfully arranged Mother's Day bouquets. Gift yourself and the mother figures in your life sustainably grown specialty flowers, all grown within New Orleans by woman-owned flower farms.

Bouquets will be for sale via pre-orders on WhatsGood starting Wednesday May 5th for pickup at the Sunday Crescent City Farmers Market on Mother's Day.
City Park Goes Hybrid

Beginning May 16th, CCFM will convert the Sunday market to a hybrid model, offering both pre-order sales for drive thru and curbside pickup, and on site shopping the day of market!

From 8-9:45 am every Sunday, CCFM's City Park farmers market will host drive-thru pre-order pickup from vendors participating in advance sales online through the WhatsGood online marketplace. Then, starting at 10 am, the cars stop and walk up customers can shop. 8-10am will host traditional walk up sales. During this time, pre-order customers are also welcome to utilize curbside pickup, where market staff will collect orders on behalf of the customer upon their arrival, continuing to offer the option of contactless pickup.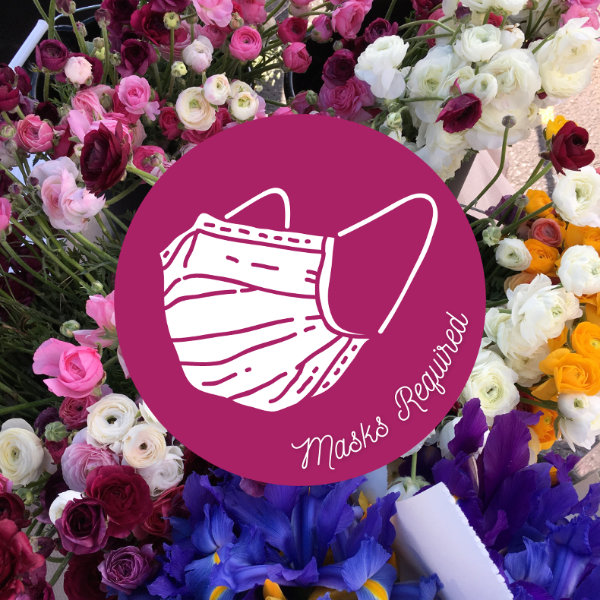 Louisiana Anti-Hunger Day
Market Umbrella will be (virtually) joining our New Orleans Food Policy Action Committee compatriots, Feeding Louisiana, this Wednesday to rally for solutions to Louisiana's hunger crisis. In Louisiana, over ¾ of a million people struggle with hunger, a quarter of them children. Join us to shine a light on this critical issue and work toward solutions.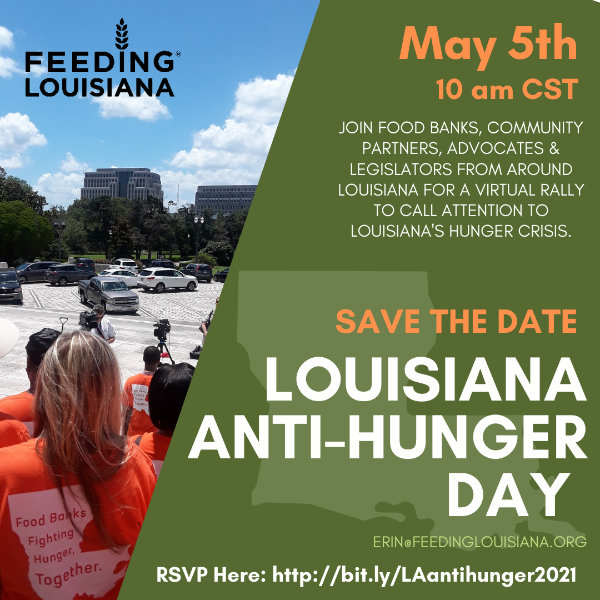 Vendor of the Week:

Compagnon Bakery

Compagnon is back, and buttery-er than ever. Quinn and Andrew met in a bakery on Valentine's day six years ago and have been working together since, starting Compagnon Bakery in 2018. Originally, compagnons were traveling bakers who wished to further their craft by training with different masters and sharing their learned knowledge with others along the way. These students built a community and connection to bread, and today the bakery honors that tradition by sourcing locally and regionally. Good bread is the goal, and Compagnon achieves. Their favorite? It's hard to choose, but croissants eke out a win--chocolate for Andrew, while Quinn enjoys a classic plain. Pre-order from these lovely bakers Wednesday through Friday via WhatsGood and pick up on Sunday at our City Park market.
Recipes of the Week:

Garden Quiche

Bright May mornings always foster a cozy need for breakfast-in-bed. Although, that may just be because Mother's Day is around the corner. This is a relatively painless dish that is sure to make ya momma proud and works perfectly for those soft cotton mornings when you just want to relax in the moment. The recipe is flexible and will take to many flavors and textures, calling for 1.5 cups of chopped veggies. Mushrooms, summer squash, broccoli, cherry tomatoes, leeks and onions are a great start, and additions such as ham or bacon are always a good choice and available at any CCFM market. Pop some bubbly to take this garden quiche to boozy brunch levels.

What's your favorite dish to make after visiting the Crescent City Farmers Market? Share your recipes with us on Instagram or Facebook or even Twitter and it might be featured in our weekly newsletter!
Market Match Limit Lifted!
Unlimited Market Match, Market Umbrella's SNAP incentive program, extended through September 30, 2021!
About Us
Market Umbrella is an independent nonprofit 501(c)(3), based in New Orleans, whose mission is to cultivate the field of public markets for public good. Market Umbrella has operated the Crescent City Farmers Markets (CCFM) since 1995.
The Crescent City Farmers Market operates weekly year-round throughout New Orleans. The CCFM hosts nearly 60 local small farmers, fishers, and food producers, and more than 150,000 shoppers annually.