City Park Goes Hybrid | May 10, 2021
Fresh & Local:
City Park Goes Hybrid
We've got exciting news to share - beginning this Sunday, May 16th, the City Park market is going hybrid! The spring season is coming on strong and we are so excited to open up our new space to in-person shopping as well as drive-thru pre-order pickup! Warm welcomes to first-of-the-season blueberries, green beans, cucumbers, summer squash, and so much more.
From 8-9:45 am every Sunday, CCFM's City Park farmers market will host drive-thru pre-order pickup from vendors participating in advance sales online through the WhatsGood online marketplace. Then, starting at 10 am, the cars stop and walk up customers can shop. The last two hours will be a traditional market shopping experience for on-foot visitors. During this time, pre-order customers are welcome to utilize curbside pickup, where market staff will collect orders on behalf of the customer upon arrival, continuing to offer the option of contactless pickup.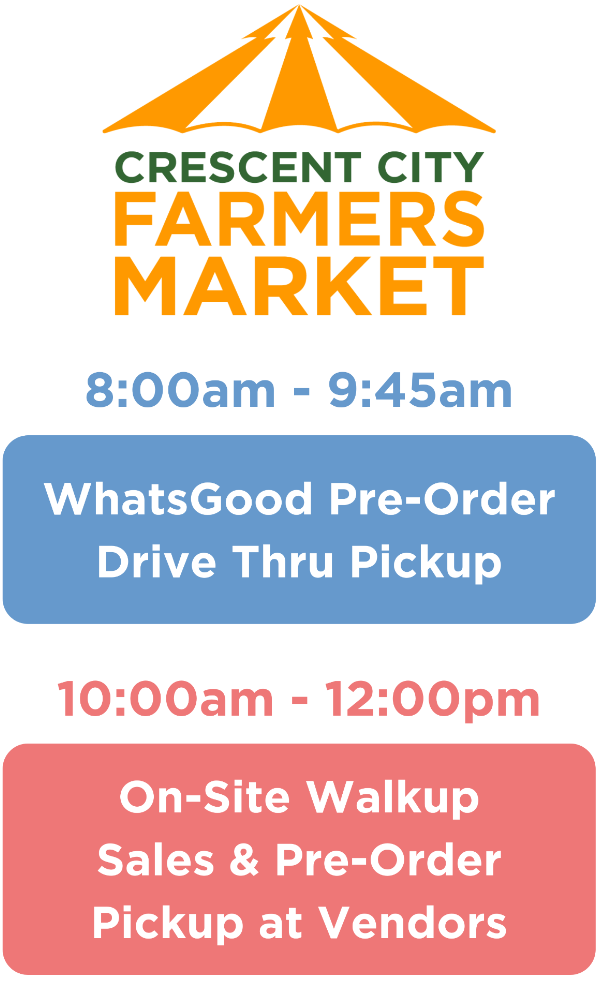 Picks of the Week:

Join our team!

Join the Market Umbrella team and help us build a stronger food system and healthier community! We are looking for individuals that are berry passionate about food access, nutrition education, and small business development for local food producers. Applications are currently being accepted for the following positions:
NOLA, thank you for giving!

We'd like to extend a heartfelt thank you to everyone who took part in GiveNOLA Day with us - whether you were able to make a gift, help spread awareness of our campaign, or just stopped by the market to say hi - we appreciate you! Your support allowed us to raise over $10,000 that will fund market operations and programs - like Market Match! Market Umbrella depends on donors like you to provide these programs for the benefit of our New Orleans community - and thanks to this generosity, we will now be able to extend unlimited Market Match for SNAP shoppers through September 30, 2021!
Farmers Market Nutrition Program

The Senior FMNP supports people age 60 and over that meet the income requirements with booklets of vouchers worth $24 to purchase produce, which in turn supports our local farmers.

Booklets are limited and issued on a first come, first served basis so it is important that you apply as soon as you can. Only pre-approved farmers can take them, but don't worry, most of our vendors are ready for you. You'll find them by the big yellow FMNP signs at their tents.

Find the application and income eligibility guidelines here. You can mail your completed application to:
Food for Seniors
Attn: Renee L. Davenport
5600 Hayne Blvd.
New Orleans LA 70126

Or fax to (504) 241-3102.

If you have any questions, contact Renee Davenport at Catholic Charities, the organization that processes these applications, at (504) 267-9665.
Say Goodbye to Strawbs

So long to the days of chilly weather and peak season berries. With warmer weather afoot, strawberries on are their way out of season in the field. We've had an exceptionally rainy spring, which is no friend to berries. Mother's day usually signals the end of peak berry season and you'll see fewer vendors with them at market. Now is the time to get your last flat and save the season.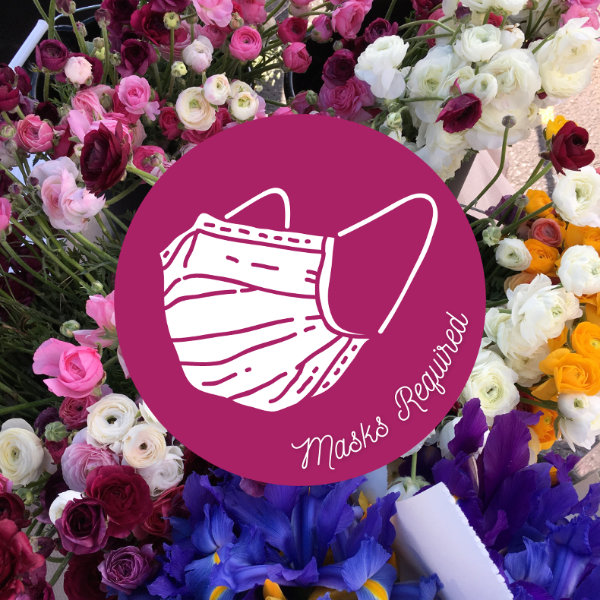 Restaurant Revitalization Fund

Local restaurants are a key part of our farmers market community and have been hit particularly hard with the drop in tourism due to COVID. The American Rescue Plan Act established the Restaurant Revitalization Fund (RRF) to provide funding to help restaurants and other eligible businesses keep their doors open. This program will provide restaurants with funding equal to their pandemic-related revenue loss up to $10 million per business. Recipients are not required to repay the funding as long as funds are used for eligible uses no later than March 11, 2023. Applications are currently being accepted, and will be available until funds run out.
Vendor of the Week:

Crescent City Cultures

It's been a little over a year since Cameron of Crescent City Cultures popped into market with his fresh and unique vegan products. Tempeh was the catalyst launching Cameron into the fermenting business. Unable to find quality, unpasteurized tempeh from the store, he tried out an at-home version - and it was a hit! "Eat more fermented stuff!" he laughs, and offers an array of cultured butters, flavored salts, and even a soy-free tempeh because, why not? If you want to give tempeh a try but have no idea where to start, C's got your back. Tempeh tacos are the way to go each time! Slice up and pan fry your block, leaving it to cool while you sautee and season veggies. After adding those to your tortilla, crumble the tempeh on top for some varying texture and flavor.
Recipes of the Week:

Tempeh BLT!

A classic BLT has to be one of the more perfect foods we have developed as a species, and this vegan spin-off packs a punch of flavor. Ashley, Market Umbrella's Director of Finance, likes a simple sauté with olive oil for the tempeh and pairs hers with market bread and veggies. Pop over to Crescent City Cultures on your way to the park or bayou on Thursdays to grab a block and try out this perfect picnic recipe. P.S. First of the season field tomatoes are also now available at market!

What's your favorite dish to make after visiting the Crescent City Farmers Market? Share your recipes with us on Instagram or Facebook or even Twitter and it might be featured in our weekly newsletter!
Market Match Limit Lifted!
Unlimited Market Match, Market Umbrella's SNAP incentive program, extended through September 30, 2021!
About Us
Market Umbrella is an independent nonprofit 501(c)(3), based in New Orleans, whose mission is to cultivate the field of public markets for public good. Market Umbrella has operated the Crescent City Farmers Markets (CCFM) since 1995.
The Crescent City Farmers Market operates weekly year-round throughout New Orleans. The CCFM hosts nearly 60 local small farmers, fishers, and food producers, and more than 150,000 shoppers annually.