Market Match Limit Lifted!
Unlimited Market Match, Market Umbrella's SNAP incentive program, extended through September 30, 2021!
Recipe
Easy Garlic Parmesan Zucchini Noodles (Zoodles)
Zoodles are a fun way to get in a serving of veggies and are perfect for eating during those hot, stuffy afternoons when you don't want a big hot bowl steaming up in your face! If you don't have a spiralizer, a vegetable peeler, mandolin, or sharp kitchen knife will do the trick just fine. Slice the zucchini lengthwise if using a mandolin. The "pasta" shape will differ based on what tool you use, but there are no wrong ways to zoodle! Enjoy them garlic-y and cheesy like this recipe or top off your favorite salad or sandwich with these fresh zucchini ribbons. Zukes are now available at all Crescent City Farmers Markets.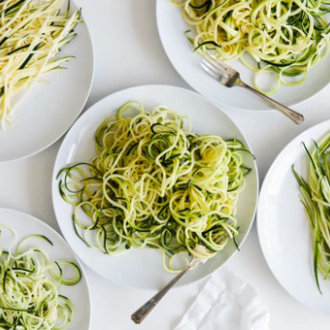 Ingredients
1 tbsp olive oil
2 garlic cloves, minced
2 medium zucchini
2 tbsp parmesan, grated
salt and pepper, to taste
Directions
Slice the ends off the zucchini and place it on your spiralizer. Turn the spiralizer and create zucchini noodles.
Heat the oil in a large pan on medium heat. Add the garlic and sauté for 30 seconds.
Add the zucchini noodles and toss them for one minute, just to warm through, then turn off the heat.
Sprinkle on the grated parmesan along with salt and pepper, give them another toss in the pan, then serve them up.
---
About Us
Market Umbrella is an independent nonprofit 501(c)(3), based in New Orleans, whose mission is to cultivate the field of public markets for public good. Market Umbrella has operated the Crescent City Farmers Markets (CCFM) since 1995.
The Crescent City Farmers Market operates weekly year-round throughout New Orleans. The CCFM hosts nearly 60 local small farmers, fishers, and food producers, and more than 150,000 shoppers annually.