Tomato Time | May 17, 2021
Fresh & Local:
Tomato Time
Is it summer yet? We've still got a few weeks to go, but heat loving veg is popping up all over the market these days. New red potatoes, green beans, zucchini, bell peppers, you name it. Oh, and field tomatoes! It's that special time of year when the last of the hydroponic tomatoes meet the first of the field tomatoes. While we have the benefit of tasty (almost) year-round hydroponics that are way better than your average grocery tomato, field grown tomatoes are a special warm weather treat and offer a satisfying burst of flavor. Creole tomatoes are a Louisiana staple, and our rich alluvial soil is the secret ingredient! All tomatoes are Market Match applicable, so double those SNAP dollars - now unlimited through September. Available now, get 'em while you can!
Speaking of tomatoes, I mean, changes, have you heard about City Park hybrid market on Sundays? Stay contactless and order for drive thru pickup from 8-9:45am, or shop in person from 10-noon.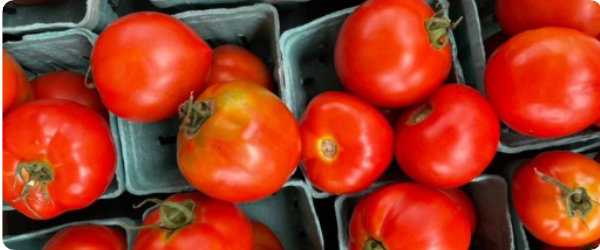 Picks of the Week:

Join our team!

Join the Market Umbrella team and help us build a stronger food system and healthier community! We are looking for individuals that are berry passionate about food access, nutrition education, and small business development for local food producers. Applications are currently being accepted for the following positions:
Pandemic EBT

P-EBT, nutritional assistance for school children who normally receive free or reduced price lunch, has once again been funded to support children and their families through the summer. In New Orleans, 79% of public school students are considered economically disadvantaged and qualify for the lunch program. Unlike the 2020 round of P-EBT, families with students who receive free or reduced price lunch will automatically qualify and be sent an EBT card in the mail without having to apply for the funds. Bring your card(s) to market and we'll double P-EBT dollars with our Market Match program to double down on fresh fruits and veg over the summer.
Farmers Market Nutrition Program

The Senior FMNP supports people age 60 and over that meet the income requirements with booklets of vouchers worth $24 to purchase produce, which in turn supports our local farmers.

Booklets are limited and issued on a first come, first served basis so it is important that you apply as soon as you can. Only pre-approved farmers can take them, but don't worry, most of our vendors are ready for you. You'll find them by the big yellow FMNP signs at their tents.

Find the income eligibility guidelines and application here. You can mail your completed application to:
Food for Seniors
Attn: Renee L. Davenport
5600 Hayne Blvd.
New Orleans LA 70126

Or fax to (504) 241-3102.

If you have any questions, contact Renee Davenport at Catholic Charities, the organization that processes these applications, at (504) 267-9665.
Top Female Achievers

The future is female! Each year, New Orleans Magazine features women who are making a difference across the community. The past year has provided many challenges, but each of the 11 Female Achievers, including Market Umbrella Executive Director Cordelia Heaney, have handled the challenges. They've put their time and talents into the fields as diverse as hospitality, design, non-profit work, business and beyond. Read more about the women of 2021!
Vendor of the Week:

Star Nursery

Dawn Camardelle is a fourth-generation cultivator coming from a line of truck farmers turned citrus. Her parents had the idea to expand in the late 60s and early 70s, using their savings to buy trees no bigger than a pencil. It was a slow start, but the family began budding and grafting trees, eventually growing into the bountiful orchard we enjoy today. Blueberries and veggies like garlic, cauliflower, broccoli, cabbage, and Dawn's favorite - creole tomatoes - are also grown on the Belle Chasse farm, though their primary products are citrus trees and satsumas which we enjoy October through January.
Recipes of the Week:

Oodles of Zoodles

Zoodles are a fun way to get in a serving of veggies and are perfect to eat during those hot stuffy afternoons when you don't want a big hot bowl steaming up in your face! If you don't have a spiralizer, a vegetable peeler, mandolin, or sharp kitchen knife will do the trick just fine. Slice the zucchini lengthwise if using a mandolin. The "pasta" shape is going to differ based on what tool you use, but there are no wrong ways to zoodle! Enjoy them garlic-y and cheesy like this recipe or top off your favorite salad or sandwich with these fresh zucchini ribbons. Zukes are now available at all Crescent City Farmers Markets.

What's your favorite dish to make after visiting the Crescent City Farmers Market? Share your recipes with us on Instagram or Facebook or even Twitter and it might be featured in our weekly newsletter!
Market Match Limit Lifted!
Unlimited Market Match, Market Umbrella's SNAP incentive program, extended through September 30, 2021!
About Us
Market Umbrella is an independent nonprofit 501(c)(3), based in New Orleans, whose mission is to cultivate the field of public markets for public good. Market Umbrella has operated the Crescent City Farmers Markets (CCFM) since 1995.
The Crescent City Farmers Market operates weekly year-round throughout New Orleans. The CCFM hosts nearly 60 local small farmers, fishers, and food producers, and more than 150,000 shoppers annually.