City Park | May 24, 2021
Fresh & Local:
City Park
Have you heard the news? You get to choose! (Re)introducing the Sunday City Park Market, now hybrid! From 8-9:45 am every Sunday, CCFM's City Park farmers market will host drive-thru pickup from vendors for orders placed online through the WhatsGood online marketplace. Then, starting at 10 am, the cars stop and walk-up customers can shop. The last two hours will be a traditional market shopping experience - walk in, peruse and make your purchases then and there.
Pre-ordering online looks a little different now - you will find two Sunday City Park markets, separating how you would like to pick up your order! Both options have the same vendors and same products - just shop according to the method you plan to use for pickup. To ensure everything runs smoothly, please make sure to arrive by 9:45 if you plan to drive thru.
We've got a great (and growing) line-up of vendors, beautiful live oaks draped in Spanish moss, and fresh air, and everything you need to make your groceries. See you there!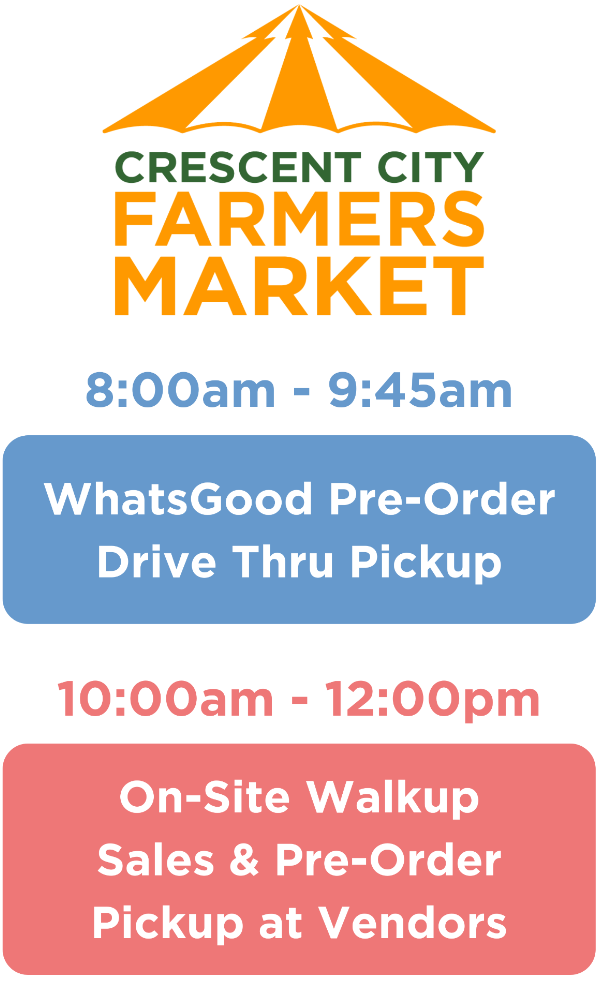 Picks of the Week:

CCFM Says Goodbye to Market Manager Cristina Berthelot

After four amazing years, dynamic and enthusiastic market manager Cristina Berthelot is off to far-off lands. Or not that far, but she is relocating to a new state, which has left her market community in a state of sadness. Staff know her as a strategic thinker, reliable coworker, dedicated to supporting local food systems and fresh food access for all, no matter what new market opportunities or global pandemics have thrown in her way. Our vendors know her as the rule enforcer, but one they can always bring anything to, talk about any market issue with - rain or shine! Heck, many of them know her as a relative - she's from right down the road in Norco! As we bid farewell to our coworker, and family in some cases, we cry for ourselves, but wish Cristina a very happy adventure and know that wherever she lands, she will dig right into social justice issues, and be a welcomed addition to a new staff somewhere out there.
Picks of the Week:

Join our team!

Join the Market Umbrella team and help us build a stronger food system and healthier community! We are looking for individuals that are berry passionate about food access, nutrition education, and small business development for local food producers. Applications are currently being accepted for the following positions:
Cool as a Cucumber

As the season heats up we are seeing more and more hot weather crops at the market, among them the beloved cucumber. A kid-approved and versatile vegetable, cucumbers are high in water and low in just about everything else, making them an optimal snack for the summer. Plus, with such a high water content, they are hydrating and will keep your thirst quenched during these hot months. Their crunchy texture makes for a great chip alternative, perfect for dipping or eating all on their own. Unlike the wax covered cucumbers you find at the grocery store, you'll notice a sweeter, tastier flavor when you buy them from Poche Family Farm, Major Acre Farm, Mendez Farm, and other CCFM vendors at markets and through our home delivery boxes.
Super Team

Market Umbrella is teamed up with Hope Credit Union, The Food Trust, and the Louisiana Agricultural Finance Authority (LAFA) on the Louisiana Healthy Food Retail Program (HFRP) to offer low interest financing to retailers of fresh fruits and vegetables who are relocating or expanding in low access areas that are in parishes affected by hurricanes Gustav or Ike. From grocery chains to corner stores, many different types of business may be eligible, particularly those that are promoting the sale of Louisiana grown produce and supporting expanded economic opportunities in low-income and rural communities. Check out the link above for more information about the where's, who's and how's, or reach out to director of markets Angelina Harrison with questions.
What's in the Box?

Need fresh, local produce from CCFM vendors delivered to your door? Weekly boxes go on sale on Tuesday mornings at 9am through Fridays at 5pm to be delivered on the following Tuesday. Order one this week!

Boxes qualify for Market Match, our program that doubles SNAP dollars spent at CCFM markets and participating partners like Top Box Foods. Choose "pay at pickup" and Top Box will contact you directly to apply the dollar for dollar match to your purchase.
Vendor of the Week:

Fletcher's Pastries

Market is made all-the-sweeter with Fletcher's Pastries in the lineup. Slices of cake swirled with icing and glossy strawberries on a tart are only the lovely beginning of what Breanna and Gerardo have to offer. Bre went to culinary school at eighteen, the blood of a butcher and restaurateur in her veins. She set out to be her own boss, starting Fletcher's a few years ago. The fiancés met at a kitchen in Hammond, good food a common theme in both their lives. Gerardo grew up eating flavorful, home-cooked Honduran food and has worked in the restaurant industry for about ten years. Their cakes are a feast for the eyes alone, but Bre surprisingly has only recently gotten into the frosting business. She loves her custom-order cakes as they give her the space to be creative and bring her customer's visions to life. Find them now at the Tuesday Uptown market. After one bite, we're confident you won't have to remind yourself to keep checking back - these new vendors have big plans for their menu!
Recipes of the Week:

Cucumber Cooler Cocktails

Although it's been a bit rainy the past few weeks, there's no denying the summer heat is slowly settling in. Cucumbers are available at our produce growers' tables, and you can easily snag some local mint from Mr. Mizell at our Tuesday market for this Cucumber Cooler Cocktail. These guys come together easy - just give them a shake and a stir and pour over ice. Waiting a bit before that first sip is key in letting the flavors infuse. Feel free to omit liquor for an all ages cooler. Cheers!

What's your favorite dish to make after visiting the Crescent City Farmers Market? Share your recipes with us on Instagram or Facebook or even Twitter and it might be featured in our weekly newsletter!
Market Match Limit Lifted!
Unlimited Market Match, Market Umbrella's SNAP incentive program, extended through September 30, 2021!
About Us
Market Umbrella is an independent nonprofit 501(c)(3), based in New Orleans, whose mission is to cultivate the field of public markets for public good. Market Umbrella has operated the Crescent City Farmers Markets (CCFM) since 1995.
The Crescent City Farmers Market operates weekly year-round throughout New Orleans. The CCFM hosts nearly 60 local small farmers, fishers, and food producers, and more than 150,000 shoppers annually.