Market Match Limit Lifted!
Unlimited Market Match, Market Umbrella's SNAP incentive program, extended through September 30, 2021!
Recipe
Blueberry Buckle Breakfast Cake
Cake for breakfast? It's always a yes. A blueberry buckle is a great accompaniment to morning coffee with its sweet textured topping and bites of plump berries. Making the cake the night before is an easy way to be prepped for the next day, as the cake must bake for about 45 minutes. Blueberries are now available at all CCFM markets, and you can get milk and butter from T&R Dairy and sub-out pecans from the Indian Springs Farmers Association for the walnuts. If blueberries aren't your thing, you can always swap out the fruit with other berry substitutions. This recipe also comes with a helpful video guide and a few troubleshooting tips to ensure that your cake is perfectly crumbly once out of the oven.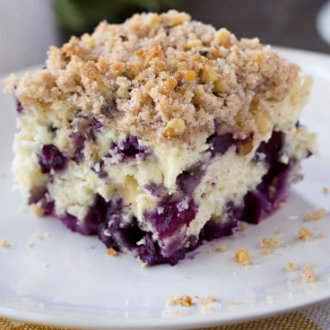 Ingredients
2 cups all-purpose flour approximately 9 ounces
1/2 cup sugar
2 teaspoons baking powder
1 large egg lightly beaten
1/2 cup milk
1/4 cup butter or margarine softened (NOT melted)
1 teaspoon grated lemon peel
2 cups fresh or frozen blueberries
For the topping:
1/3 cup sugar
1/4 cup all-purpose flour
1/4 cup walnuts finely chopped
1/2 teaspoon ground cinnamon
3 tablespoons cold butter or margarine
For the drizzle: (optional)
1/2 cup powdered sugar
2 tablespoons milk more or less to get to a drizzling consistency
Directions
Preheat the oven to 350 F and spray or grease a 9-inch square baking pan.
In a large bowl, whisk together flour, sugar and baking powder. Cut butter into small pieces. Add egg, milk, butter and lemon peel; mix just until dry ingredients are moistened. You may need to finish mixing with your hands to get all the flour incorporated. the batter will be very thick.
Fold in the blueberries. Because the batter is so thick, this may take a few minutes. Spread into a greased 9-in. square baking pan.
For topping, combine sugar, flour, walnuts and cinnamon in a mini food processor or bowl. Add butter and process, or cut in if doing by hand, until mixture is crumbly. I like to do this with my fingers so I can tell when it's ready by touch. Sprinkle over batter. Bake at 350 degrees F for 40-45 minutes or until cake tests done.
For drizzle, combine the powdered sugar and milk. If too thick, add a few drops of additional milk at a time until it reaches drizzling consistency. Drizzles over the top of the cake and allow to sit until sugar solidifies.
---
About Us
Market Umbrella is an independent nonprofit 501(c)(3), based in New Orleans, whose mission is to cultivate the field of public markets for public good. Market Umbrella has operated the Crescent City Farmers Markets (CCFM) since 1995.
The Crescent City Farmers Market operates weekly year-round throughout New Orleans. The CCFM hosts nearly 60 local small farmers, fishers, and food producers, and more than 150,000 shoppers annually.