Celebrating Hispanic Heritage Month | October 4, 2021
Fresh & Local:
Celebrating Hispanic Heritage Month
This year, National Hispanic Heritage Month runs from September 15th to October 15th, and since the Hispanic community makes major contributions to our country's farming and food production industries, this is a great time to recognize those contributions both nationally and here in Louisiana. In the United States, 3.3% of all farm producers (owners, operators and farm decision makers) are Hispanic, and people of Hispanic origins account for 51% of hired farm labor (nationally ⅔ of farm labor is performed by family, and ⅓ is hired out). At CCFM, we are proud to have vendors like B&G Foods, Isabel's Tamales and Produce, and Amanda's Frozen Fruit Bars grace the lineup with a variety of deliciousness, from crisp, fresh vegetables and fruit juices to market pizzas and breakfast burritos. Growing up in Nicaragua, Amanda ate fresh fruit like papaya, coconut, and mango daily. She wanted to bring those bright seasonal tastes to New Orleans, packing a punch in her bottles and ice pops. Gerardo, the "G" of B&G Foods, came to Louisiana at the age of eleven from Honduras. He instantly took to the smells and flavors of New Orleans, the roux on the stove reminding him of his mother's fresh flour tortillas from back home. The loss of his grandmother reignited his passion for cooking and baking, this love and her influence present in B&G's pastry lineup. Almost all of us have enjoyed a tamale from Isabel's, but growing up, she hated cooking, preferring to be outside with her father on the farm. Coming to the States from Mexico, she would have never believed she would be selling homemade items like burritos, salsas, and tamales alongside her tomatoes and peppers. You can support our Hispanic vendors year-round at all three of our weekly markets. Another great way to support farmers is by donating to the Crescent Fund. Your gift will be distributed directly to the farmers, fishers, and other food producers in the CCFM network that suffered devastating damage from Hurricane Ida to aid in their recovery and return to market.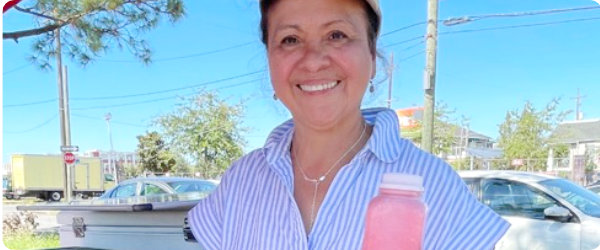 Picks of the Week:

All About Tamales

Dating back almost 9,000 years, tamales were first prepared and consumed by the Aztec, Inca, and Mayan people. Tamales are now a staple in many cultures and are enjoyed around the world, providing a source of comfort, celebration, and connection. Many families have cherished recipes passed down for generations and there is no singular way to make them.

These delicious, portable meals are composed of a filling wrapped in dough and steamed – almost like a Mesoamerican dumpling! The dough, or masa, is made from a mixture of ground corn and broth wrapped around a filling made from meat or vegetables and steamed in a dried corn husk wrapper. Served with a side of rice, beans, and toppings including pickled onions, salsa, and guacamole. If you are craving a tamale or are just trying one for the first time, give Isabel's Tamales and Produce a try… you won't be disappointed. Also at market are Ollie's Tamales, who serve New Orleans traditional hot tamales, a hybrid style harkening to New Orleans' history as an Italian and Central American cultural crossroads. Isabel's Tamales and Produce is normally at every CCFM market, but as they recover from Hurricane Ida, attendance might be more sporadic.Similarly, Ollie's Tamales is currently coming to markets on different dates each week. You can always check our website to find out which vendors are scheduled to be at market.
We are still looking for Mommas!

Market Umbrella's Market Mommas Club is currently enrolling for the 2021 cohort. Thanks to the generous support of LA Healthcare Connection, Market Umbrella is providing qualifying mothers with $60 per month to spend at the market until the end of the calendar year.To join this breastfeeding nutrition incentive program you must be WIC or Medicaid eligible, attend a lactation support class with one of our community partners, and register online by following the link HERE or register at market. Contact us with any questions at mmc@marketumbrella.org. This is a one time opportunity for qualifying mothers, we kindly ask that participants of previous cohorts keep spots available for new participants. See you at the Crescent City Farmers Market!
What To Plant In October

Still reeling from Ida, growers and producers in Louisiana have begun the process of replanting lost fall crops. August and September typically see less variety of produce and less volume at market, but are key months for fall planting and harvesting. It's alright, though--we're gonna be okay, and possibly a little hungry. Grab your trowel, your gloves, and put on a pair of your oldest jeans. We're planting hearty fall flavor, baby! October is good for planting crops like brussels sprouts, lettuce, cabbage, cauliflower and broccoli, many pea varieties such as snap and snow, greens like kale and chard, and other root veggies like radishes, turnips, carrots, beets, onions and shallots. Keep an eye on your seedlings--although it's been a rainy week, October in general can be pretty dry and it's best to be as on top of your watering schedule as you can. Also, check out the GNO Gardening Magazine October issue for a great October guide to vegetable planting for our area.
Vendor of the Week:

Isabel's Tamales and Produce

Hailing from Independence, Louisiana, Isabel and the Mendez family grow a variety of produce on their farm, ranging from okra in the summertime to broccoli and cauliflower come winter. In addition to her fresh produce, Isabel's is also famously known for her tamales (veggie, cheese, jalapeño, and bean) that are made fresh before each market! If you haven't tried them already, you're going to want to be sure to come pick them up and enjoy them alongside her homemade red or green salsa, pico de gallo, and hand made tortilla chips. To see what else Isabel will be selling this coming week check out WhatsGood and order your tamales, salsas, pickles, and produce ahead of time. Pre-ordering is open Wednesday through Friday for pick up at the Sunday Market in City Park at the Tad Gormley Stadium parking lot located at Navarre Ave. and Marconi Drive.
Recipes of the Week:

Grilled Green Onions

If you love onions, then you are going to love these grilled green onions. Great alongside tacos or paired with beef, chicken or vegetables, you'll be happy you tried this simple recipe, prepared with green onions available at CCFM almost all year long!

What's your favorite dish to make after visiting the Crescent City Farmers Market? Share your recipes with us on Instagram or Facebook and it might be featured in our weekly newsletter!
Market Match Limit Lifted!
Unlimited Market Match, Market Umbrella's SNAP incentive program, extended through December 31, 2021!
About Us
Market Umbrella is an independent nonprofit 501(c)(3), based in New Orleans, whose mission is to cultivate the field of public markets for public good. Market Umbrella has operated the Crescent City Farmers Markets (CCFM) since 1995.
The Crescent City Farmers Market operates weekly year-round throughout New Orleans. The CCFM hosts nearly 60 local small farmers, fishers, and food producers, and more than 150,000 shoppers annually.