Access to healthy foods and why it matters! | October 18, 2021
Fresh & Local:
Access to healthy foods and why it matters!
Farmers markets serve as a critical component of healthy, thriving communities: they increase access to fresh foods and provide public spaces for community connections, while simultaneously stimulating local economic growth. Without access to healthy foods, a nutritious diet and good health are out of reach for many people, and finding quality fresh food then means either traveling to communities outside of your own or paying extremely high prices for wilted produce past its prime. When you can't access fresh produce easily, you are less likely to eat it, which then increases rates and risks of chronic diseases such as obesity and heart disease.
Through our signature food access program Market Match, Crescent City Farmers Markets match dollars spent by SNAP/EBT recipients dollar-for-dollar. This supports more consumers' access to fresh and local food, with the goal of increased consumption to prevent disease. To help assist people looking to get more support in making healthy food choices a part of their lifestyle, Crescent City Farmers Markets have also been reintroducing nutrition and health education activities at our markets. Check our social media feeds and future Market Morsel newsletters for updates on cooking demonstrations, wellness activities, and more at upcoming markets!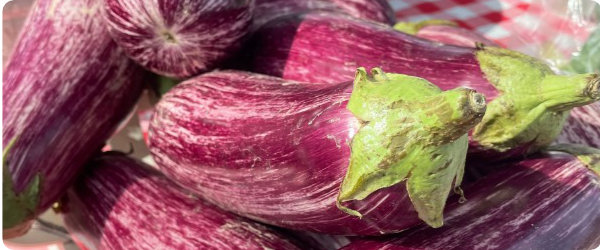 Picks of the Week:

We're Hiring

Market Umbrella is passionate about the work we do, especially our work increasing local food access and addressing farmer recovery needs post-Ida. We are growing our team to help expand our programs and to support fundraising work like the Crescent Fund to support Crescent City Farmers Market farmers and vendors.

We are in the market for a Director of Development and Communications. This full-time staff member is responsible for leading the fundraising and communications activities of Market Umbrella and the Crescent City Farmers Markets. See full details here!

Market Umbrella is also expanding our programs team and are accepting applications for a part-time Program Coordinator to work on community outreach and support our nutrition education work. Learn more about this opportunity here!
Crescent Fund donors: THANK YOU!

The Market Umbrella team and Crescent City Farmers Market family are tremendously grateful for the support that our community has shown to the Crescent Fund. This fund, which provides emergency relief to local CCFM farmers, ranchers, food producers and fishers, has received a $25,000 contribution from Resy and American Express. Longtime supporters of the Crescent City Farmers Markets, chefs and restaurateurs Emily and Alon Shaya and Nina Compton helped to facilitate the donation. Read more about this generous gift in the press release.

To date, the Crescent Fund has garnered a total of over $118,000 in support from over 300 donors including other notable contributions from the Greater New Orleans Foundation, Fidelity Bank, and JV Foods along with commitments from community fundraisers being hosted by restaurants across New Orleans such as Commander's Palace. Funds are being distributed directly to affected food producers so that they can return with their products to markets and restaurants as soon as possible. To contribute to these relief efforts through Market Umbrella's Crescent Fund, click here or text IDACCFM to 44-321.
Eat the Rainbow for Health

Healthy eating can be as simple as remembering to "Eat the Rainbow". Consuming a variety of fruits and vegetables in all colors will increase your intake of nutrients that have different health benefits. During your next trip to the market, consider trying something new - buy a medley of peppers instead of just one type, or pair sweet potatoes with dark leafy greens. While making the change can feel daunting, this is a great opportunity to start up a conversation with your local farmer and ask how they like to prepare the produce they're selling. If you prefer online resources, check out the recipe archive on our website for lots of fun ideas for what to cook with your market purchases.
Del Fuego at Market

We are excited to announce that we will be hosting a former Green Plate Special restaurant at the Tuesday market-- Del Fuego Taqueria! They will be serving up some delicious fresh salsas including sikil pak (the vegetarian but rich, umami, pleasantly spicy roasted pumpkin seed dip), housemade crunchy corn tostadas, vegan pozole verde, pozole rojo with fresh made corn tortillas and accompaniments at our Tuesday market on October 19th and October 26th. As a reminder, EBT tokens can be used on hot prepared food until Oct 28th.
Vendor of the Week:

L'Hoste Citrus

The long-awaited satsuma season is here! Postponed by Hurricane Ida, citrus at market has begun, and over at L'Hoste Citrus at the Tuesday market Uptown, you can find a variety of tangy treats that work well as a to-go snack. In 1981, Lester and Linda L'Hoste bought a property and 151 trees, and began their journey into the world of citrus farming. Today, the orchard spans 15 acres of planted citrus. The pair uses methods such as tree grafting (uniting two different plant tissues into one) and have been certified organic since 1996. Their mission is to produce the best product for their customers, and they would like to extend a thanks to everyone who has supported their farm and family over the years. You can find L'Hoste Citrus and delicious LA sweets, satsumas, navel oranges, grapefruits, Meyer lemons, mandarins, kumquats, blood oranges and tangerines at upcoming markets. Talk about eating the rainbow!
Recipes of the Week:

Satsuma Vinaigrette

This zingy satsuma vinaigrette takes just minutes to make! It capitalizes on the juicy fruit to make a dressing that livens up any salad.

What's your favorite dish to make after visiting the Crescent City Farmers Market? Share your recipes with us on Instagram or Facebook and it might be featured in our weekly newsletter!
Market Match Limit Lifted!
Unlimited Market Match, Market Umbrella's SNAP incentive program, extended through December 31, 2021!
About Us
Market Umbrella is an independent nonprofit 501(c)(3), based in New Orleans, whose mission is to cultivate the field of public markets for public good. Market Umbrella has operated the Crescent City Farmers Markets (CCFM) since 1995.
The Crescent City Farmers Market operates weekly year-round throughout New Orleans. The CCFM hosts nearly 60 local small farmers, fishers, and food producers, and more than 150,000 shoppers annually.