Recipe
Satsuma Vinaigrette
This zingy satsuma vinaigrette takes just minutes to make! It capitalizes on the juicy fruit to make a dressing that livens up any salad.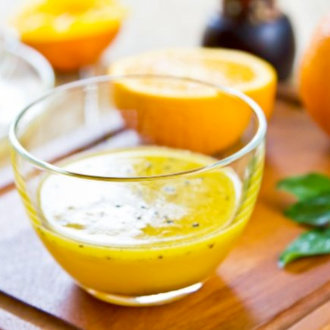 Ingredients
2 tablespoons satsuma juice
1/2 teaspoon satsuma zest
1 tablespoon lemon juice
1/2 tablespoon Dijon mustard
1/2 teaspoon maple syrup
1/4 teaspoon kosher salt
Fresh ground black pepper
1/2 cup olive oil
Directions
Zest the satsuma. In a medium bowl, mix the sasuma juice, zest, lemon juice, mustard, maple syrup, salt and a grind of fresh black pepper.
Gradually whisk in the olive oil 1 tablespoon at a time (8 tablespoons total), until creamy and emulsified. If desired, season with additional salt.
---
Market Match Limit Lifted!
Unlimited Market Match, Market Umbrella's SNAP incentive program, extended through December 31, 2021!
About Us
Market Umbrella is an independent nonprofit 501(c)(3), based in New Orleans, whose mission is to cultivate the field of public markets for public good. Market Umbrella has operated the Crescent City Farmers Markets (CCFM) since 1995.
The Crescent City Farmers Market operates weekly year-round throughout New Orleans. The CCFM hosts nearly 60 local small farmers, fishers, and food producers, and more than 150,000 shoppers annually.