Sunday Walk Up All Day! | October 25, 2021
Fresh & Local:
Sunday Walk Up All Day!
Starting this weekend, the Sunday City Park market will run as a walk up market for the entire market - from 8am to noon! Based on what drive thru shoppers said in a recent survey, the contactless drive thru was an important innovation at the onset of COVID, but is less important now. We'll keep the convenience with preorders through WhatsGood so you can still shop ahead and either pickup orders directly from vendors or choose a new curbside option for contactless pickup from 8am to noon. Not all vendors participate in pre-orders, so if you're looking online for something you're not finding, you can always check our website to find out who will be at market.
Come celebrate our new, longer walk up hours this Halloween which will have fun for the whole family! Get your groceries in the sunshine and fresh air - including first of the season satsumas - while enjoying live music, kids activities and prizes, spooky take-home crafts, a photo booth, and plenty of holiday spirit. Hope to see you there!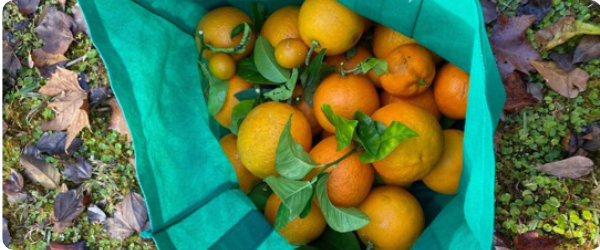 Picks of the Week:

Many Thanks and Best Wishes to Bridget!

Bridget Rabun, Market Umbrella's fantastic Development Director, is leaving the organization after this week. Bridget was Market Umbrella's first full-time development staff member, and in her two years in this role she led the organization in making huge strides in its fundraising initiatives and grew our grant support significantly. She has worn many hats, helping with communications, graphic design, working markets during COVID pivots, and more, as well as her development work. Her passion and experience have been wonderful assets to Market Umbrella, and she will definitely be missed. Bridget, thank you for all of your contributions to Market Umbrella and the Crescent City Farmers Markets, and best wishes for your next adventure!
Join Our Team!

We are in the market for a Director of Development and Communications. This full-time staff member is responsible for leading the fundraising and communications activities of Market Umbrella and the Crescent City Farmers Markets. See full details here! To apply, please submit a cover letter, resume, and 3 professional references (at least one a current or former supervisor) to employment@marketumbrella.org.
We are currently accepting applications for a Part-Time Program Coordinator. This position will assist with direct delivery of SNAP-Ed curriculum and activities including outreach and nutrition education. The Coordinator's main work is implementing weekly activities in the Market, but they will also assist in evaluation efforts and outreach efforts to support Market Umbrella's programs and mission. For more information about responsibilities, duties and qualifications click here. To apply, please submit a cover letter, resume, and 3 professional references (at least one a current or former supervisor) to employment@marketumbrella.org. Applications will be reviewed on a rolling basis.
The Sweetest Treat

If you live in the coastal south, the slow transition of summer into fall brings slightly cooler weather and the joy of the local satsuma harvests. Satsumas, sometimes referred to interchangeably as clementines or tangerines, is a type of mandarin orange that is grown here locally in Louisiana. It's seedless, easy to peel, and softly sweet with just the right amount of tartness to balance the flavor out.
Originating in Japan, satsumas have a high cold tolerance allowing them to grow in many places other citrus varieties cannot. The fruit is so balanced and versatile that it can be eaten peeled, on salads, in sauces and dressings, or baked into something decadent like an upside down cake or cheesecake. If you ordered your local Top Box Crescent City Farmers Market Box for this Tuesday you're in luck because satsumas will be included for you to enjoy! Don't forget to place your orders for a Tuesday delivery by Friday afternoon of the week before in order to get all of the fresh, local produce delivered directly to your door.
Vendor of the Week:

Zest for Success

Bright in flavor and color, satsumas are an easy pop of hydration that can be enjoyed at home or on-the-go. Due to Hurricane Ida, citrus is rolling in a little late this year. Don't fret - Star Nursery, an orchard that started back in the late 60s in Belle Chasse, is back and with a bounty of citrus. Be sure to drop in for a bag of New Orleans' favorite fall treat as Star Nursery will be at all three of our weekly markets. Citrus fruits contain a variety of minerals and vitamins the body needs (such as B vitamins, magnesium, copper, and potassium, to name a few), and they are a great source of fiber. A few satsumas contain all the Vitamin C you need in a day, strengthening your immune system and keeping your skin smooth. On top of that, citrus is rich in plant compounds like flavonoids and carotenoids (antioxidants) and essential oils. Besides the health benefits, citrus, and satsumas in particular, are a sweet and healthy way to snack your way through the fall season, and easy for little fingers to peel, providing perhaps the most convenient kid snack there is.
Craft of the Week:

Satsuma Pumpkins

Transform a basket of satsumas into these beautiful mini pumpkins. This is such a quick and easy way to make Halloween decorations, to spook up the fruit bowl or add some fun to your child's packed lunch.
You will need:
Satsumas or tangerines
A black permanent marker
How to make:
Use a permanent marker, such as a black Sharpie, to draw the faces.
Satsumas have waxy skins so you may need to draw on your faces, let the ink dry, and then go over them again to make them look really bold.
It's that easy. Have lots of fun making a whole family of pumpkins, each with different expressions.
Recipes of the Week:

Satsuma Cheesecake

You will love this satsuma orange cheesecake recipe. The tang of cream cheese and sour cream in the filling rounds out the citrusy sweetness for an unforgettable dessert.

What's your favorite dish to make after visiting the Crescent City Farmers Market? Share your recipes with us on Instagram or Facebook and it might be featured in our weekly newsletter!
Market Match Limit Lifted!
Unlimited Market Match, Market Umbrella's SNAP incentive program, extended through December 31, 2021!
About Us
Market Umbrella is an independent nonprofit 501(c)(3), based in New Orleans, whose mission is to cultivate the field of public markets for public good. Market Umbrella has operated the Crescent City Farmers Markets (CCFM) since 1995.
The Crescent City Farmers Market operates weekly year-round throughout New Orleans. The CCFM hosts nearly 60 local small farmers, fishers, and food producers, and more than 150,000 shoppers annually.