Recipe
Satsuma Cheesecake
You will love this satsuma orange cheesecake recipe. The tang of cream cheese and sour cream in the filling rounds out the citrusy sweetness for an unforgettable dessert.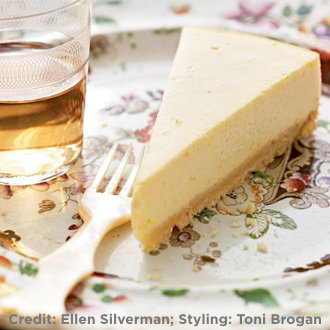 Ingredients
Crust:
4 ½ ounces all-purpose flour (about 1 cup)
¼ teaspoon baking powder
⅛ teaspoon salt
3 tablespoons sugar
3 tablespoons butter, softened
1 large egg yolk
Filling:
1 ½ cups (12 ounces) fat-free cream cheese, softened
1 cup (8 ounces) 1/3-less-fat cream cheese, softened
¾ cup sugar
¾ cup fat-free sour cream
2 tablespoons grated satsuma rind
¼ cup fresh satsuma juice
4 large eggs
Directions
Preheat the oven to 325°.
To prepare the crust, lightly coat a 9-inch springform pan with cooking spray. Line the bottom of the pan with parchment paper.
Weigh or lightly spoon flour into a dry measuring cup; level with a knife. Sift together flour, baking powder, and salt. Combine 3 tablespoons sugar and butter in a food processor; process until light and fluffy. Add egg yolk; process until smooth. Add flour mixture to the food processor; process just until combined. Firmly press mixture into the bottom of prepared pan. Bake at 325° for 25 minutes or until lightly browned. Cool for 10 minutes on a wire rack.
Combine cream cheeses in a food processor; process 30 seconds or until smooth. Add 3/4 cup sugar; process 30 seconds. Add sour cream, rind, and juice; process 30 seconds. Add eggs, 1 at a time, processing well after each addition. Scrape down sides of bowl; process for 10 seconds. Pour cheese mixture into prepared crust; place pan in a large baking pan. Add hot water to the pan to a depth of 1 inch. Bake at 325° for 50 minutes or until the cheesecake center barely moves when the pan is touched. Turn the oven off; let stand for 30 minutes. Remove cheesecake from the oven and water bath; run a knife around the outside edge. Cool to room temperature. Cover and chill for at least 8 hours. Then serve.
---
Market Match Limit Lifted!
Unlimited Market Match, Market Umbrella's SNAP incentive program, extended through December 31, 2021!
About Us
Market Umbrella is an independent nonprofit 501(c)(3), based in New Orleans, whose mission is to cultivate the field of public markets for public good. Market Umbrella has operated the Crescent City Farmers Markets (CCFM) since 1995.
The Crescent City Farmers Market operates weekly year-round throughout New Orleans. The CCFM hosts nearly 60 local small farmers, fishers, and food producers, and more than 150,000 shoppers annually.