Recipe
Horchata
Here's a recipe that promises a blend of fiber-rich ingredients and creamy goodness. Celebrate Dia de los Muertos with this nutrient-rich Horchata drink recipe that is both healthy AND delicious!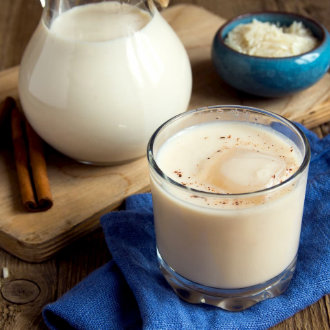 Ingredients
1 cup of uncooked white long-grain rice
1/2 cup of milk
5 cups of water
1/2 tablespoon of vanilla extract
2/3 cup of white sugar
1/2 tablespoon of ground cinnamon
Directions
Blend the rice and water in the blender until the rice starts to break up. This should take about 1 minute. Let the mixture stand at room temperature for at least 3 hours.
Strain the water from the mixture and discard the rice. Stir the milk, vanilla, cinnamon, and sugar into the rice water. Chill and stir before serving over ice.
---
Market Match Limit Lifted!
Unlimited Market Match, Market Umbrella's SNAP incentive program, extended through December 31, 2021!
About Us
Market Umbrella is an independent nonprofit 501(c)(3), based in New Orleans, whose mission is to cultivate the field of public markets for public good. Market Umbrella has operated the Crescent City Farmers Markets (CCFM) since 1995.
The Crescent City Farmers Market operates weekly year-round throughout New Orleans. The CCFM hosts nearly 60 local small farmers, fishers, and food producers, and more than 150,000 shoppers annually.