Ch-Ch-Ch-Changes | November 8, 2021
Fresh & Local:
Ch-Ch-Ch-Changes
Just a reminder that the Sunday market now offers walk up sales from 8 am to noon. The drive through pickup option ended in October, and we have changed our shopping options to better suit your needs based on feedback we received from shoppers in a recent survey. With our two convenient preorder options through WhatsGood, you can still do your meal planning and shop ahead to reserve products and either pick up orders directly from vendors or choose the new curbside option available for the duration of market. The preorder window opens on Wednesday and closes on Friday at 11:59 pm. Not all vendors participate in preorders, so if you're looking online for something you're not finding, you can always check our website to find out who will be at market. We have options for everyone and can't wait to see you bright and early at the market!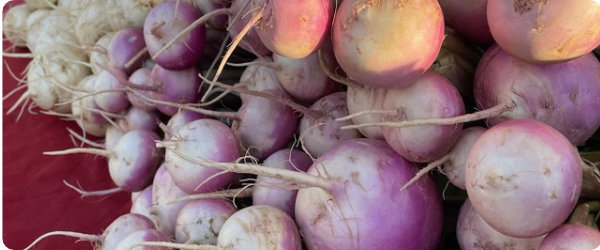 Picks of the Week:

Farmers Market Smokeout: Marjie's Grill & Mawi Tortillas

Marjie's Grill & Mawi Tortillas are combining forces for a special one-time collaborative meal to benefit the Crescent Fund, which provides support for CCFM vendors recovering from Hurricane Ida. They will be serving up a special 'smokeout' meal available at the Mid-City Farmers Market located on the Lafitte Greenway at 500 N. Norman C. Francis Pkwy. on Thursday, November 11 from 3-7 pm (or until food sells out!). The menu will feature smoked Laos style sausage or beef ribs with Mawi tortillas, gallo pinto, and crystal mojo sauce; locally sourced and delicious veggie options available. $15 suggested donation. Let's eat!
Redeem FMNP Vouchers

Each year, the Farmers Market Nutrition Program (FMNP) - a USDA-funded program administered by the Louisiana Department of Agriculture and Forestry - provides vouchers to thousands of low-income senior citizens, as well as mothers participating in WIC, to spend on fresh fruits and vegetables with certified local vendors at area farmers markets including all the Crescent City Farmers Market locations. November 30th, 2021 marks the last day to redeem current issued WIC FMNP and Senior FMNP vouchers for the 2021 calendar year. This year, thanks to the support of generous donors, Market Umbrella is able to offer bonus bucks to shoppers who present their FMNP booklets at the Welcome Tent of any Crescent City Farmers Market location. Support from Fairlife allows senior shoppers to round their $24 worth of vouchers up to $30 and receive $6 in cash-value tokens. Support from Cox allows WIC mothers to match their $24 in vouchers dollar-for-dollar for an extra $24 of cash-value tokens. Bonus tokens can be redeemed for any items at market - including dairy and protein!
Last call for Coffee Vendors!

Here at CCFM we are extremely excited to be working towards adding a full time coffee vendor to our markets. After many years of preparing and selling coffee from the Welcome Tent, we are happy to offer this opportunity to a small-scale coffee producer to sell beans and beverages at our markets. The deadline to apply is this Friday, November 12th. Tell your friends and let your favorite artisan coffee producers know! To learn more and apply, check out the link on our website.
Vendor of the Week:

Monica's Okra World

Starting off as roadside sellers and then joining CCFM as regular vendors 25 years ago, the Monicas of Monica's Okra World have definitely lived the ups and downs of being a Louisiana farming family. Their okra has been flying off the shelves since they began stocking it at the Garyville General Store, and they were making home deliveries throughout the Crescent City until Hurricane Katrina. As versatile and nostalgic as okra is, kale is the star of the show during this part of the fall season, and strong bunches of the sturdy greens are overflowing their table next to mustard greens and cabbage. High in vitamins and iron, kale can help keep your energy high during the upcoming winter months. So go buy some okra, kale, and other hearty seasonal veggies like radishes, green onions, and bok choy from our longtime friends the Monicas to keep yourself active and alert as November rolls on.
Recipes of the Week:

Harvest Salad

This flavorful harvest salad is a pretty presentation of everything we love about the fall. It features many ingredients that can all be bought at market now or soon.

What's your favorite dish to make after visiting the Crescent City Farmers Market? Share your recipes with us on Instagram or Facebook and it might be featured in our weekly newsletter!
Market Match Limit Lifted!
Unlimited Market Match, Market Umbrella's SNAP incentive program, extended through December 31, 2021!
About Us
Market Umbrella is an independent nonprofit 501(c)(3), based in New Orleans, whose mission is to cultivate the field of public markets for public good. Market Umbrella has operated the Crescent City Farmers Markets (CCFM) since 1995.
The Crescent City Farmers Market operates weekly year-round throughout New Orleans. The CCFM hosts nearly 60 local small farmers, fishers, and food producers, and more than 150,000 shoppers annually.