Recipe
Harvest Salad
This flavorful harvest salad is a pretty presentation of everything we love about the fall. It features many ingredients that can all be bought at market now or soon.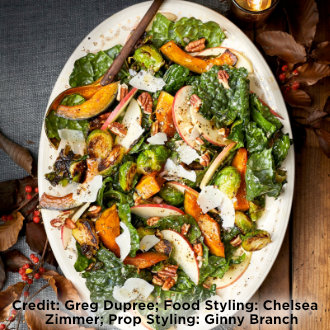 Ingredients
¼ cup fresh orange juice (feel free to substitute satsuma juice!)
1 small shallot, minced (about 2 Tbsp.)
1 tablespoon distilled white vinegar
1 tablespoon pure maple syrup
1 tablespoon Dijon mustard
2½ teaspoons kosher salt, divided
½ teaspoon black pepper, divided
⅓ cup plus 2 Tbsp. extra-virgin olive oil, divided
1 (1 ½-lb.) kabocha squash, seeded and cut into 2-inch-long x ¾-inch-wide wedges (sub delicata, butternut or acorn to increase the local items)
1 pound fresh Brussels sprouts, trimmed and halved lengthwise (available at CCFMs soon!)
2 bunches Lacinato kale, stemmed and chopped (about 12 cups) (any kind of kale is delightful in this recipe)
1 medium Honeycrisp apple, thinly sliced (about 1 ½ cups)
½ cup toasted pecans, chopped
1 ounce Parmesan cheese, shaved (about ½ cup)
Directions
Preheat oven to 450°F. Whisk together orange juice, shallot, vinegar, maple syrup, mustard, 1½ teaspoons of salt, and ¼ teaspoon of pepper in a small bowl. Gradually whisk in ⅓ cup of the olive oil until liquid is smooth and combined. Set aside.
Toss together squash, Brussels sprouts, and remaining 1 teaspoon salt, ¼ teaspoon pepper, and 2 tablespoons olive oil on a large rimmed baking sheet until combined. Roast in preheated oven until tender and browned, about 20 minutes, rotating baking sheet halfway through cook time.
Using your hands, massage kale and ¼ cup vinaigrette in a large bowl until kale softens, 1 minute. Add apple and roasted vegetables; toss to combine. Transfer to a platter. Sprinkle with pecans and Parmesan. Drizzle with remaining vinaigrette.
---
Market Match Limit Lifted!
Unlimited Market Match, Market Umbrella's SNAP incentive program, extended through December 31, 2021!
About Us
Market Umbrella is an independent nonprofit 501(c)(3), based in New Orleans, whose mission is to cultivate the field of public markets for public good. Market Umbrella has operated the Crescent City Farmers Markets (CCFM) since 1995.
The Crescent City Farmers Market operates weekly year-round throughout New Orleans. The CCFM hosts nearly 60 local small farmers, fishers, and food producers, and more than 150,000 shoppers annually.