Recipe
Turkey Tostadas
In the coming weeks, many Americans will gather together with friends and family to celebrate Thanksgiving. When the fun is done, you may be left with more turkey than you anticipated. Try this delicious turkey tostada recipe to help use up those leftovers!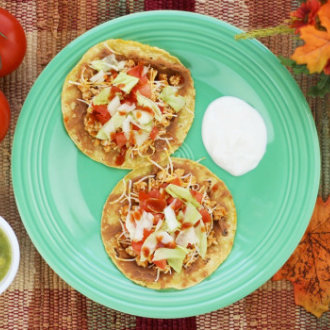 Ingredients
2 cups cooked turkey (cut into bite-size pieces, or 2 cups ground turkey, browned in a skillet and drained)
2 tablespoons taco seasoning (chili)
1 1/2 cups water
4 corn tortillas
1/4 cup refried beans
1/4 cup Cheddar or Monterey Jack cheese, shredded
1/2 cup tomatoes, chopped
1/2 cup lettuce, shredded
2 tablespoons onion, chopped
plain yogurt
guacamole
Directions
Wash and prepare vegetables.
In a large skillet over medium heat, combine turkey, taco seasoning, and water.
Bring mixture to boil, reduce heat and simmer for 5 minutes, stirring occasionally.
Place tortillas on a cooking sheet. Bake at 375° for 4-7 minutes or until tortillas are crispy.
Spread tortillas with a tablespoon of beans. Top with 1/4 meat mixture and cheese.
Return tortillas to the oven to cook for 2-3 minutes or until the cheese is melted.
Top with tomatoes, lettuce, onions. Garnish with yogurt and guacamole, if desired.
---
Market Match Limit Lifted!
Unlimited Market Match, Market Umbrella's SNAP incentive program, extended through December 31, 2021!
About Us
Market Umbrella is an independent nonprofit 501(c)(3), based in New Orleans, whose mission is to cultivate the field of public markets for public good. Market Umbrella has operated the Crescent City Farmers Markets (CCFM) since 1995.
The Crescent City Farmers Market operates weekly year-round throughout New Orleans. The CCFM hosts nearly 60 local small farmers, fishers, and food producers, and more than 150,000 shoppers annually.