Give Thanks | November 22, 2021
Fresh & Local:
Give Thanks
Market Umbrella has worked hard this year to address growing food insecurity in our community, which has only been exacerbated by the pandemic and Hurricane Ida, by expanding our Market Match program. Market Match provides dollar-for-dollar matching to hundreds of customers using the Supplemental Nutrition Assistance Program (SNAP) each year. Over the last 12 months, nearly $200,000 in SNAP transactions were processed through the Crescent City Farmers Markets and our Market Match partners, and over $140,000 in additional direct incentives were distributed to these families in need - putting those dollars in the pockets of local food producing small businesses while also putting food on the tables of hundreds of local families.
"Being able to use SNAP to buy fresh and healthy produce - and have those purchases matched - has been an amazing resource for our family. We can support local farmers, and stay within our budget at the same time. It feels great to be able to help our community while we are just makin' groceries,"
one Market Match shopper recently shared.
Please take a moment and join us in building a stronger, healthier, more resilient community and make a contribution now by donating online or texting CCFM to 44-321. Your gift to Market Umbrella will fund operations and programs like Market Match, supporting vulnerable community members and local farms and small businesses at the same time - we can't do it without you!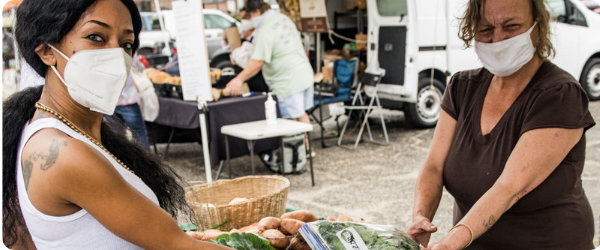 Picks of the Week:

Native American Heritage Day

Friday, November 26th, is Native American Heritage Day, and while many of us enjoy this time of the year to share good food with good people, it is important to remember the origins of Thanksgiving and what that means to the Indigenous people of the land we all love.
Before colonists arrived, Native peoples were already in the practice of celebrating the autumn harvest, with gratitude and thankfulness being core values across different tribes. Once settlers did arrive, their original "Thanksgivings" were actually celebratory fasting periods, oftentimes recognizing battle victories such as the Pequot massacre. The cozy, "Pilgrim + Indian'' story of unity is an insult to many, and while Native people have various perspectives on the holiday, for some it remains a day of mourning.
In New Orleans, where 0.7% of the population identifies as having Native ancestry, we have the Mardi Gras Indians--a culture born out of the marriage of local Indigenous tribes and African Americans who escaped enslavement. Our friend Jeremy Oatis of Pickled NOLA masks with the Original Wild Tchoupitoulas as the Trail Chief, and in his words, "The Mardi Gras tradition is a way to pay homage and respect to the many different Indigenous tribes that sheltered runaway slaves and protected them being recaptured, sent back into bondage, and sometimes being killed." The songs, chants, and traditional dress are a beautiful blend of African and Native cultures, a reminder of the rich New Orleanian history we are all a part of.
Cajun Seafood Mac and Cheese

If you love mac n' cheese, then you have to try this Cajun Seafood Mac and Cheese! Plenty of fresh shrimp and crab meat blended with cheesy deliciousness create the perfect side or even main dish.
Louisiana Collard Greens

This collard green recipe is loaded with flavor! It's slightly smoky, salty, vinegary, and so savory! The broth is rich, and the greens are so tender after simmering away in all of those flavors.
Southern Sweet Potato Pie

This creamy sweet potato pie is perfectly spiced and slices beautifully! Add a dollop of whipped cream and this southern dessert will make for a memorable dish.
Vendor of the Week:

Pete and Clara's Seafood

As everyone scrambles to figure out who is going to cook the turkey or get the honey baked ham, here in Louisiana we like to celebrate the holidays the creole-cajun way-- with seafood! If you are looking for some last minute additions to your holiday meals, head over to our Tuesday Uptown Market where you will find Pete and Clara's Seafood selling an array of fresh fin fish, like drum and catfish, along with crab and fresh shrimp when it's available. The Gericas have been with the Crescent City Farmers Market since its inception and are an essential part of our community. Try their fresh picked crab meat and shrimp in a Cajun Mac N Cheese or in Seafood Stuffed Mirlitons. And don't forget to come early!
Recipes of the Week:

Holiday Favorites from the MU and CCFM Staff!

We have three great recipes to share with you this week. This Thanksgiving, the staff of Market Umbrella and the Crescent City Farmers Market give thanks to you, for shopping and supporting our local vendors and community.

What's your favorite dish to make after visiting the Crescent City Farmers Market? Share your recipes with us on Instagram or Facebook and it might be featured in our weekly newsletter!
Market Match Limit Lifted!
Unlimited Market Match, Market Umbrella's SNAP incentive program, extended through December 31, 2021!
About Us
Market Umbrella is an independent nonprofit 501(c)(3), based in New Orleans, whose mission is to cultivate the field of public markets for public good. Market Umbrella has operated the Crescent City Farmers Markets (CCFM) since 1995.
The Crescent City Farmers Market operates weekly year-round throughout New Orleans. The CCFM hosts nearly 60 local small farmers, fishers, and food producers, and more than 150,000 shoppers annually.