Recipe
Cajun Seafood Mac and Cheese
If you love mac n' cheese, then you have to try this Cajun Seafood Mac and Cheese! Plenty of fresh shrimp and crab meat blended with cheesy deliciousness create the perfect side or even main dish.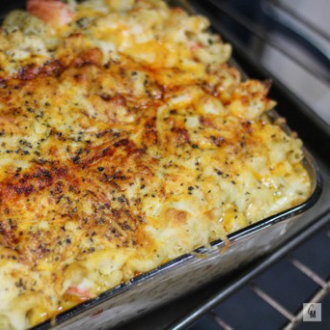 Ingredients
1½ - 2 pounds of shrimp
1 tablespoon of Cajun seasoning
1 teaspoon of Old Bay seasoning
1 tablespoon of garlic salt
1 teaspoon of pepper
1 teaspoon of sea salt
½ tablespoon of paprika
2 tablespoons of olive oil
1½ cup of crab meat
2 cups of cooked of elbow macaroni (cooked and drained according to directions on box)
1 cup of grated sharp cheddar cheese
½ cup of grated mozzarella cheese
½ cup of colby cheese
½ cup of Monterey Jack cheese
1½ cup of milk
2 cups of evaporated milk
2 eggs beaten
Directions
Preheat the oven to 350 degrees.
Season shrimp with Cajun seasoning, Old Bay seasoning, garlic salt, pepper, Sea salt, and paprika.
Heat olive oil in a large pan over medium heat. Once hot, add shrimp, flipping only once so that the shrimp slightly blackens. Cook for 5-7 minutes total.
Remove shrimp from heat and place to the side.
In a large saucepan over medium heat, add milk and evaporated milk and whisk until slightly simmering.
Once simmering, add the beaten eggs and continue to whisk.
Add cheeses, frequently whisking until the cheese is completely melted. (Should be a nice cheese sauce).
Add the cooked macaroni, shrimp, and crab meat. Stir until fully mixed throughout.
Transfer to a greased 9"x13" pan.
Top with additional cheese, paprika, and cayenne pepper.
Bake for 45-50 minutes, until the cheese is completely melted and golden.
Remove from the oven and let sit for 20 minutes before serving.
---
Market Match Limit Lifted!
Unlimited Market Match, Market Umbrella's SNAP incentive program, extended through December 31, 2021!
About Us
Market Umbrella is an independent nonprofit 501(c)(3), based in New Orleans, whose mission is to cultivate the field of public markets for public good. Market Umbrella has operated the Crescent City Farmers Markets (CCFM) since 1995.
The Crescent City Farmers Market operates weekly year-round throughout New Orleans. The CCFM hosts nearly 60 local small farmers, fishers, and food producers, and more than 150,000 shoppers annually.