Recipe
Southern Sweet Potato Pie
This creamy sweet potato pie is perfectly spiced and slices beautifully! Add a dollop of whipped cream and this southern dessert will make for a memorable dish.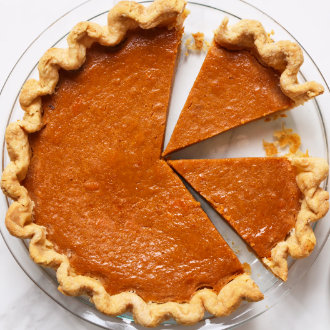 Ingredients
1 cup mashed sweet potato (two medium sweet potatoes)
1/2 cup salted butter, softened
3/4 cup light brown sugar
1/2 cup granulated sugar
1/2 cup evaporated milk
2 large eggs
1 tsp. vanilla extract
1/2 tsp. ground cinnamon
1/4 tsp. ground ginger
1/4 tsp. nutmeg
1 Tbsp. all-purpose flour
1 (9-inch) unbaked pie crust (use either a homemade pie crust, refrigerated or frozen pie crust.)
Directions
Preheat the oven to 350 degrees.
Place sweet potato and butter in a mixing bowl and use an electric mixer to beat until smooth.
Add brown sugar, granulated sugar, milk, eggs, vanilla extract, cinnamon, ginger, nutmeg, and flour. Beat until smooth.
Pour into pie crust. Bake for 55 to 60 minutes, or until the center is set.
Serve warm or refrigerate and serve cool.
---
Market Match Limit Lifted!
Unlimited Market Match, Market Umbrella's SNAP incentive program, extended through December 31, 2021!
About Us
Market Umbrella is an independent nonprofit 501(c)(3), based in New Orleans, whose mission is to cultivate the field of public markets for public good. Market Umbrella has operated the Crescent City Farmers Markets (CCFM) since 1995.
The Crescent City Farmers Market operates weekly year-round throughout New Orleans. The CCFM hosts nearly 60 local small farmers, fishers, and food producers, and more than 150,000 shoppers annually.